Dancehall artiste Shatta Wale has paid a visit to the Head Pastor of the Anointed Palace Chapel Rev. Obofour at his newly bought house.
Reports say the man of God bought the 2019 Rolls Royce Phantom and a new mansion inside worth over $3 million at Trassacco in Accra.
Shatta Wale took to his Facebook to announce the visit.
"Last night I was filled with the teachings and the spirit of God from my Daddy Rev. Obofuor ..I heard what nobody has told me before and I have come to believe am not the only child of God but they are many like this humble man spreading the right message to the world about the word of God !!! Thank you Daddy !!!!. My fans love you so much and they will be happy to see this day !!!" he wrote.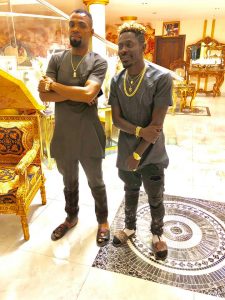 Last year, Rev. Obofour was seen performing Shatta Wale's popular 'Taking Over' song at his church.
He talked about how inspiring Shatta Wale's songs are and asked his congregation not to be quick to judge people based on what they see.