Following the pandemonium that was caused at the Accra International Conference Centre, Shatta Wale seems to have voiced out how displeased he was with the awarding of the Reggae/dancehall artiste of the year to his arch-rival, Stonebwoy.
"Don't play with a lion like that… He dislikes to smell blood!!!", he posted on his profile on Facebook.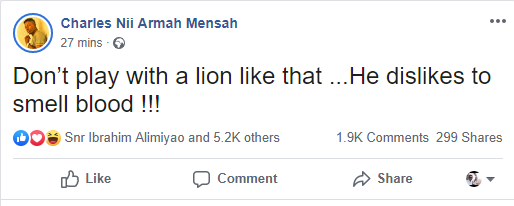 The confusion started when Shatta Wale got onto the stage while Stonebwoy was about to give his acceptance speech for the award.

Videos coming from the venue have shown that Stonebwoy took out a gun when Shatta got on the stage. However, the leader of the Shatta Movement did not go close. He went to stand on the side.
After a while, calm was restored and the event went on.