Off the top and perhaps too early to call, "Odo" off the #Alpha tape, featuring the late, Ebony, potentially is one of the best written and produced songs of 2019 – easily a song/record of the year candidate.
Just hype? Nah, Sark's 6-track #Alpha EP just released a few hours ago, is a well crafted body of work. Perhaps, this is his most definitive work post Manifest and Shatta beefs. Choosing to serve the taste buds of his core HipHop/GHRap fanbase, the first half of the tape is cooked strictly HipHop, all three songs ready hot vintage Sark.
It is great listening to Sark employ his rap skills set, especially his comfy flow on the Fortune Dane produced "Greatness", where he brags home the rap crown. Then dude goes to war on "Angels and Demons" calling out haters who always question every move and helping hand given to upcoming acts (Strongman and Biribiri Ba cypher come to mind). Perfect title, well thought out jabs if you ask me.
Note worthy is the subliminals spewed at his peers to level up. However, he interestingly stretches his hand to make peace with an inner circle buddy or colleague artiste who is described as now taking lower booking fees, after their fall out. Not so quick to make peace, Sark advised him grow up before attempting to make up with him. A Shatta or Strongman sub? you may be right!
Next he shows gratitude and at the same time teases his colleagues and friends on the Atown TSB produced "Bleeding". With the catchy hook, "Bleeding" is sure to be a boys-boys' favourite.
No fillers so far, Alpha's creative direction tactfully shifts into the 2nd half of the tape. It draws diverse elements outside HipHop to floss creative production. From Ghana's burgeoning alternative music scene, the socially conscious "Legend" track is inspired and features Joey B who skids effortlessly on the track with arguably the best rap rook of the year, so far. Then the makeshift salsa horns and guitar licks on "Vintage Flow" make you want to nod incessantly to the beautiful melodies.
Alpha ends with the tape's x-factor, "Odo", featuring Ebony. A love song of assurance, a subtle highlife percussion marinates a catchy synth loop ala amazingly on a laid-back HipHop drums with signature trap music 808s.
"Odo" has an alluring hook, likely penned by Akwaboah, but jointly sang by heart-warming vocals from Ebony and then Sark. It is complemented by great story-telling delivery from Sark and perfectly balanced by the insane production from young Nova. Song choice, composition, vocal treatment and dual delivery in Twi and English, the switch between highlife and subtle R&B cadence – oh my, I applaud the creativity on the "Odo". Maybe, I am reaching because the late Ebony is featured on the song…perhaps!
The #AlphaTape is hard! Alpha is stellar! No fillers!
I picked a few things. Sarkodie is abreast of the changing trends of the music scene and the market that exists within the streaming space hence intentionally curating some songs to cater for that demograph though he is recently more skewed towards hardcore rap or HipHop.
Surprisingly, no song fits the wavy afrobeats label and so one wonders if he is saving some cuts for later – he disclosed that Alpha is just a teaser tape to what he has for the year. OK!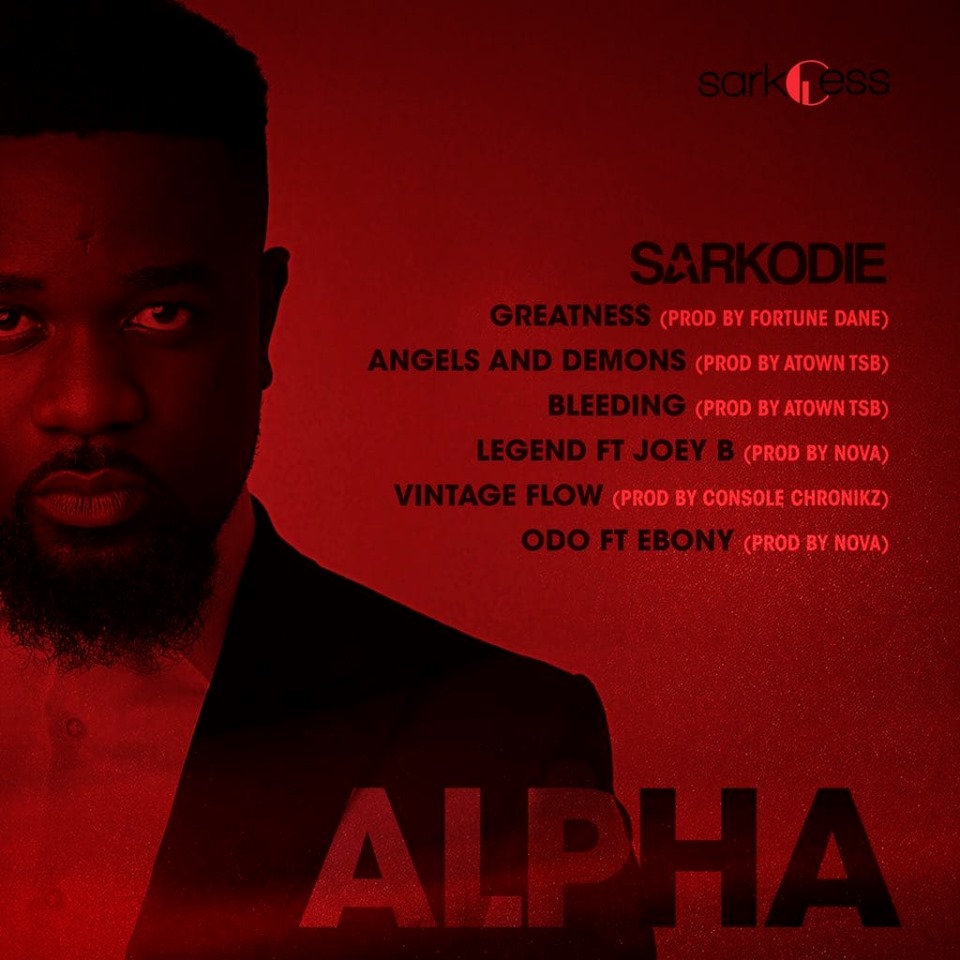 Sarkodie has somewhat given music fans a befitting tribute to Ebony and her best feature in my opinion vocally albeit her demise. You wished she was alive to see what would become of this collaboration.
Sark still has his rap skill set sharpened. His usual subject matter has not changed much. It is the same on this project though a bit refreshing and making up with prestine production and relatable hooks and melodies.
You are sure to appreciate the creative effort and excellence of Alpha. Another potential classic for the Artiste of the Decade!