The latest addition to the line up of this year's Music Magic Comedy [MMC] Live concert June 26, 2019, at the Accra International Conference Centre (AICC), is Strongman.
His addition comes after the heated lyrical battle between him and Medikal over the weekend.
The rap battle that got a lot of people (who hitherto may not have heard their songs) engrossed in the rappers' songs, had been described as one that would project the former SarkCess Music signee, Strongman, more to higher heights.
Strongman took Medikal on in 'Don't Try' after the latter had released 'To Whom it May Concern', a track purported to be directed to Strongman for saying Medikal didn't deserve his Best Rapper award at the Vodafone Ghana Music Awards.
On Friday, June 21, 2019, Medikal released 'To Whom it May Concern' which sought to jab some people who have been envious of his feats.
Strongman then released 'Don't Try', a direct diss song to Medikal.
Medikal retaliated with 'The Last Burial,' Strongman hit back with 'Immortal' then in the evening of Sunday, June 23, 2019, Medikal dropped a commercial song titled 'Drip'. This song, contrary to people's expectations, was not directed at Strongman. It is a usual hip-hop piece that features Joey B and Kofi Mole.
As if that was the end, Strongman also released 'Ups & Downs' an hour after Medikal has dropped 'Drip'.
He will be performing alongside Sarkodie, Wendy Shay and Ghanaian magician Christopher Voncujovi.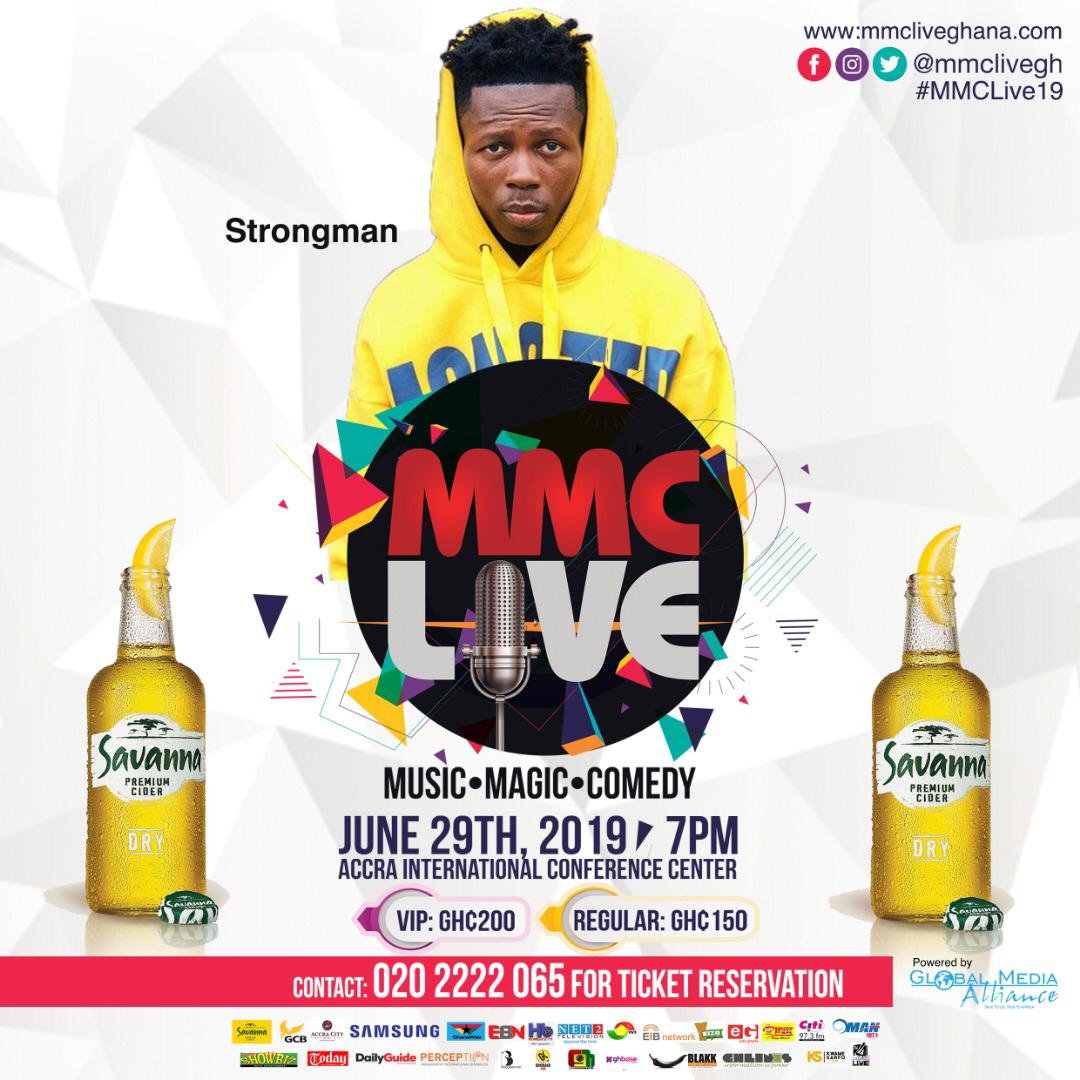 There will also be comedians like Acapella from Nigeria, OB Amponsah and Foster Romanus.
Music Magic Comedy [MMC] Live concert is organised by Global Media Alliance.
Since 2015 the show has witnessed hilarious performances from talented characters like Samini, King Promise, Kofi Kinaata, Episode, Jacinta and DKB with magical concerts from Larry Soffer, the magician and mentalist from South Africa.
–
By: ghanaweekend.com