Santrofi band, a music group from Ghana is embarking on a tour in Europe to perform at some of the most prominent festivals on the continent.
They will be performing at the Roskilde Festival in Denmark, Womad Festival in the United Kingdom, Fusion Festival in Germany.
They will also be playing other gigs in Portugal, Netherlands, Germany and Belgium.
Santrofi will be sharing stages with Ziggy Marley, Cardi B, Travis Scot, Chance the Rapper, Macy Gray, among other world's great acts.
In an interview with Emmanuel Ofori, who is the leader of the band, he told citinewsroom.com that "we are very happy performing our own songs to the world and promoting highlife and Ghana's heritage, We hope to move higher and pray we bring home the Grammys one day," he said.
Santrofi in Akan mythology is the tale of a precious rare and precious bird, identified by its bright colours and four wings.
So unique, it was forbidden to be hunted; if caught to hold, if was a symbol of bad omen, if spotted and left to fly away, a great treasure will be forfeit.
Santrofi is revered for the clarity of its vision and the transformative beauty and power of its song.
Very proverbial of the new vintage-inspired Highlife, Highlife Funk and Afrobeat, Santrofi is a collective of celebrated young musicians known within Ghana's music circles.
Led by Bassist/ producer Emmanuel Ofori who rose from the immutable Ebo Taylor, and Pat Thomas and Kwashibu Area Band to form his own collective deeply informed by vintage Ghanaian highlife music in all its forms – some largely unknown to the world ranging from the smelting soulful highlife sound that can only be nurtured by Accra's afternoon scorch, to the riveting fast-paced pulse of 70s dance-guitar highlife, or to the other-worldly sound of Highlife funk, 50s big band highlife or the polyrhythmic beats and melodies that took Afrobeat across the globe.
This wall of sound, although long lost and forgotten, is back with effortless ease and with a progressive edge like it never left.
Santrofi's debut album 'Alewa' captures the influence from the diverse, yet, intertwined eras of the journey of Ghana's Highlife's music, unlike it has ever been done; in recent years or years gone by; interestingly, Alewa also doubles as the title to one of the singles on the album.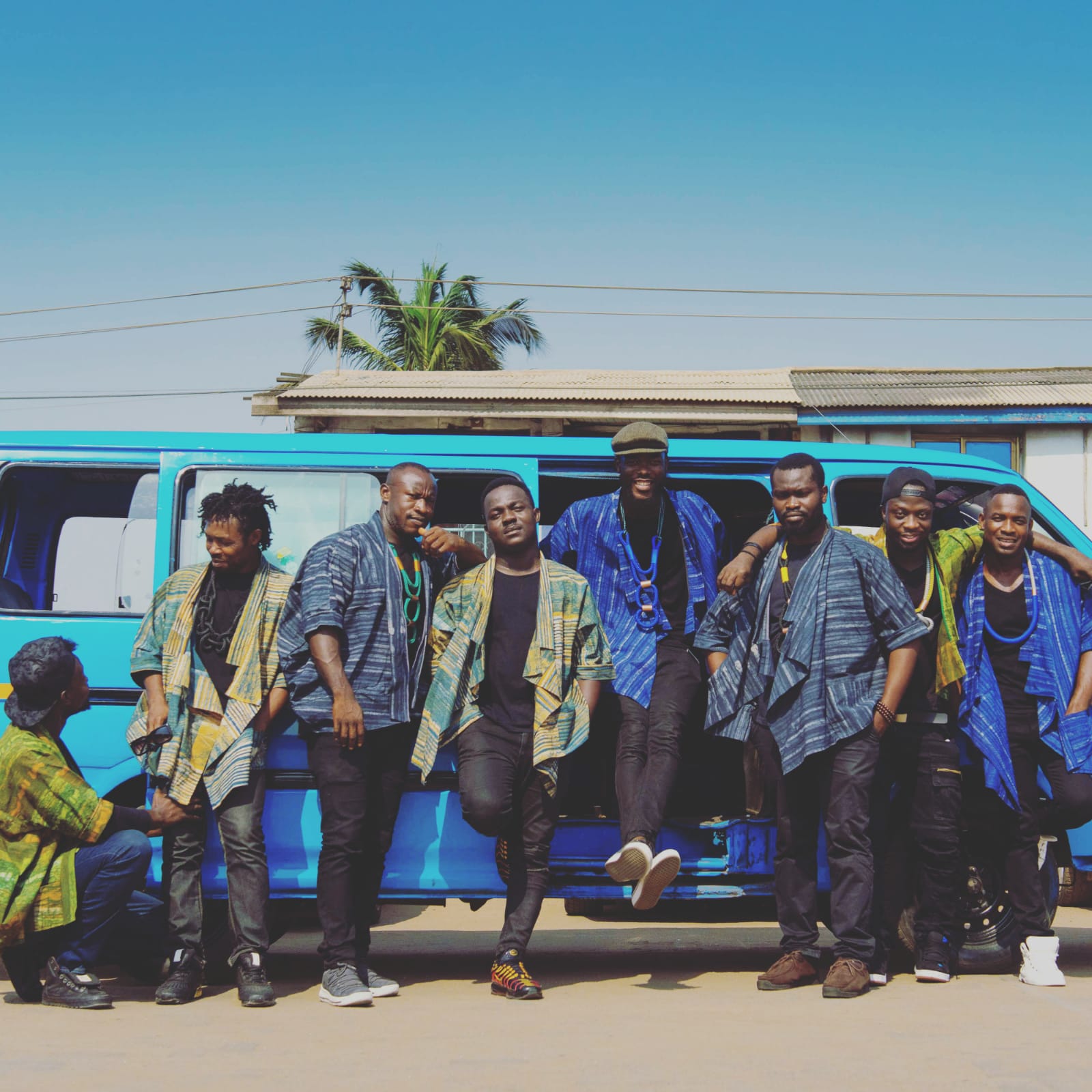 A metaphor about a popularly known local black and white striped sweet made from sugar; representative of the symbol of independence in the harmony of Sanofi's multi-instrumentalists who all alternate in their arrangements both on record and on stage in a showcase of musical progressive liberation.
Alewa is also a metaphor alluding to the need to recognize, accept, tolerate and embrace racial diversity to build a world with love and unity.
On bass guitar is Emmanuel Ofori, electric lead guitars, Dominic Quarchie (Ghana's Music Awards' winner of instrumentalist of the year 2018) on the rhythm guitar and lead vocals Nsoroma, Bernard Gyamfi on trombone and shekere, Norbert Wonkyi on trumpet, Flugelhorn and bells, Prince Larbi on drums and vocals.
Emmanuel Boakye Agyeman on organs, Fender Rhodes and vocals, Victor Nii Amoo on percussions, and Kofi 'IamBeatMenace' as the co-producer, audio engineer and brands Coordinator