Citi FM ad Citi TV, the organisers of the annual Christmas party, Decemba 2 Rememba, are giving the opportunity to a lucky designer to be part of this year's event.
In the wake of this, a contest has been opened to the general public to create a t-shirt for this year's concert.
The winner of the contest will be given two tickets to attend the show.
Performing at this year's Decemba 2 Rememba are Fameye, Kofi Kinaata, Kuami Eugene, KiDi, Kelvynboy, Okyeame Kwame, Praye and Adina.
Other artistes like Tulenkey, Dope Nation, Krymi and Camidoh will also make an appearance at the show.
Guidelines
Create a T-shirt design for Decemba 2 Rememba.
Submit your entry by tagging Citi FM with the #D2RCompetition on social media platforms.
Must include the concert year (i.e., "2019").
Final T-shirt will be a maximum of three ink colours, including black.
Design for front of t-shirt only.
Use of the Decemba 2 Rememba logo is permitted. Click here to view the logo.
The Decemba 2 Rememba logo colours should be incorporated in the design with the design intended for use on a white t-shirt.
Multiple designs may be submitted.
Submissions by INDIVIDUALS ONLY.
Submission Deadline: NOVEMBER 20TH, 2019
Format of Final Entries:
The entry should be accompanied by your name and contact information.
The entry may be any of the following art file formats if submitted electronically: .AI, .JPG, .PDF, .PNG or .PSD. (Dimensions: 12″ x 12″)
The Decemba 2 Rememba logo colours should be incorporated in the design with the design intended for use on a white t-shirt.
Use of the Decemba 2 Rememba logo is permitted.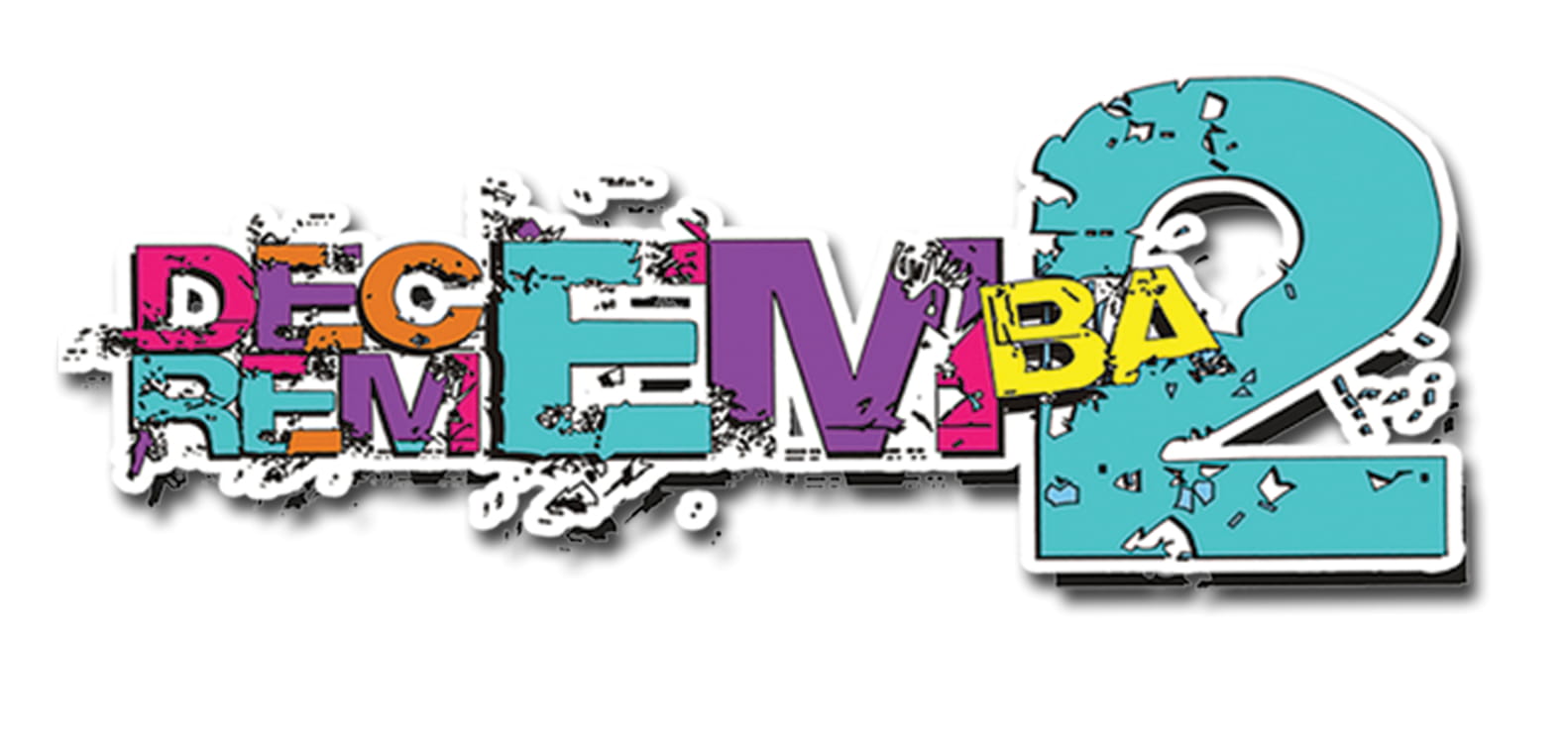 We reserve the right to pick one entry, more than one entry, or no entries as the winning entry.
Prize
The contestant who created the winning entry will receive two free tickets for the Decemba 2 Rememba 2019 Concert.
Terms and Conditions
The Citi FM reserves the right to terminate this contest at any time, effective on the date of issuing the termination notice, and we are under no obligation to give notice prior to the date of termination.
You agree that if you submit an entry, you will sign an assignment and release form prepared by us acknowledging your acceptance and understanding of the complete contest rules including that the winning design is the property of Citi FM.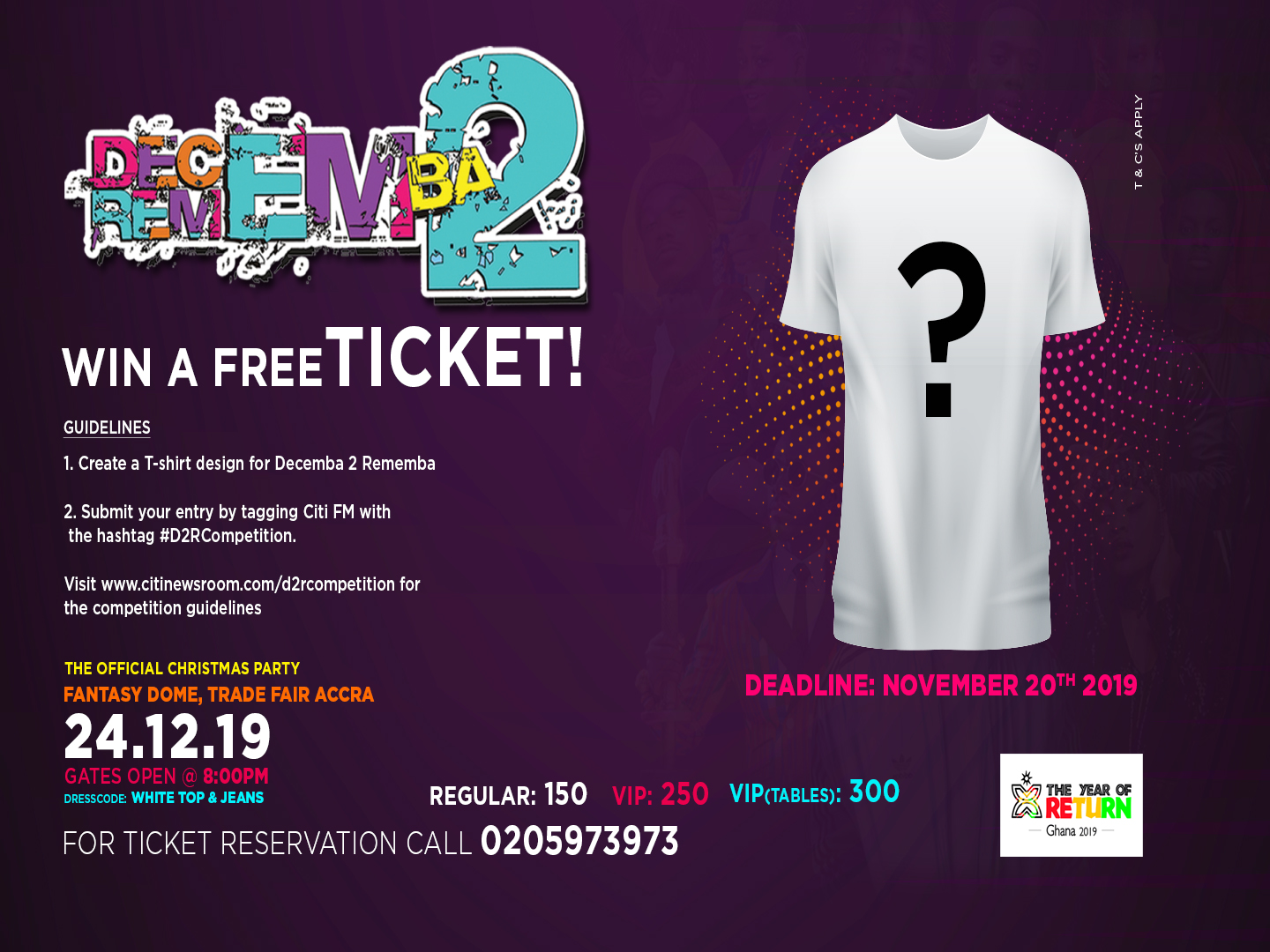 Acknowledgement and Assignment
I am submitting a contest entry, and I hereby assign any and all rights in the intellectual property of this entry to Citi FM. I agree that the entry I submit becomes your property and that the entry will not be returned to me.
I state that this entry is my own original creation and that I did not copy anyone else's work in creating this contest entry. I agree that if I have copied anyone else's work in preparing this entry, and if I win this contest, I will return the prize to you and will defend, indemnify and hold harmless Citi FM and their respective officers, clients, contractors and agents against and from any loss, debt, liability, damage, obligation, claim, demand, judgment or settlement of any nature or kind, known or unknown, liquidated or unliquidated, including without limitation, all reasonable costs and expenses incurred including all reasonable litigation costs and attorneys' fees arising out of or relating to claims, complaint, action, proceeding or suit of a third party, that arise or relate in whole or part to the contestant's entry.
I agree that if I win the contest, I authorize the use by you, without additional compensation, of my name and likeness or photograph for promotional purposes in any manner and in any medium (including without limitation the Internet, written or email communications, brochures, videos, slides, radio, television, film) that you deem appropriate.
About 2019 D2R
This year's Decemba 2 Rememba, will be held at the Fantasy Dome at Trade Fair in Accra on December 24, 2019.
Being the Year of Return, the 2019 Decemba 2 Rememba will also provide recreation to visitors who would be in the country for the celebration.
Tickets are selling for GHc150 (Regular), GHc250 (VIP) and GHc300 (VIP with tables).
For VIP ticket reservation call 0205973973.
Listen to Citi 97.3FM, watch Citi TV or keep reading citinewsroom.com for more details.