Rufftown Records signee, Wendy Shay seems to be in a world of her own that no matter what the backlashes, she sticks to titles she bestowed on herself.
From calling herself the richest to the queen of Ghana music now she has added herself to the list of artistes who go by names that start with the letter 'S'.
In a tweet last week, she took out Samini from the list of artistes known by the 'S' tag and made herself one of them.
Per the name qualification alone, Wendy would be in the 'W' category but insists on belonging to the 'S' list using her other name, Shay.
The 4S
Shatta
Sark
Stone
Shay

— Queen Shay (@wendyshaygh) June 28, 2020
Her tweet was met with backlashes and a response from Samini who lectured her on the requirements of being on the list she forced herself on.
There must be Power in the letter "S". You need a suit with it written on your chest lol. You want to make the list so bad "WS"? "S" for star ,S for spirituality ,S for seriousness ,S for simplicity ,S for solar .. make I continue? 🔑 The name must start with "S" if anything 🎯

— SAMINI (@samini_dagaati) June 29, 2020
But she remains adamant.
In a new post on Instagram and Twitter, she added Samini back to the list, noting that her hard work has merited her the status to be on the same level with Samini, Sarkodie, Stonebwoy and Shatta Wale. She asked people to check the chats for evidence.
"The Pose u make when u officially Part of 5S. Check the charts. To God be the Glory," she captioned the picture.
However, fans are not in agreement. Some are rather concerned about her stomach which has become a topic for some time now.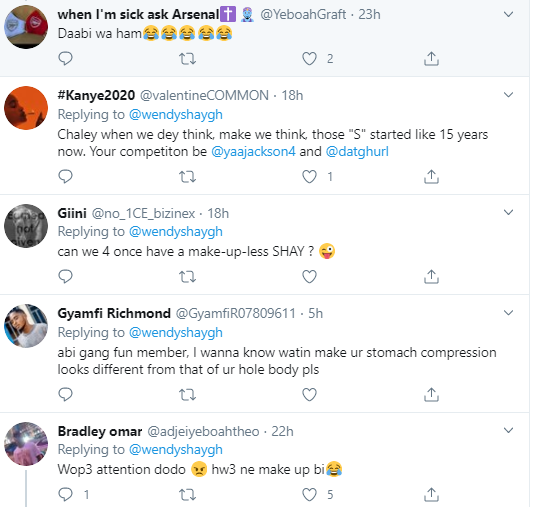 –
By: Hajia Lamy Gates |ghanaweekend.com