Kojo Cue's 'For My Brothers Concert' will not come off on 6th February this year as earlier scheduled.
The postponement has become necessary due to the recent surge in the numbers of Coronavirus cases.
In a Twitter post, Kojo Cue wrote: "As much as I want to share this experience with you, I can't knowingly put you in harm's way. So in light of the recent spike in COVID cases, the team has decided to postpone the concert. Your life is more important. Full refunds guaranteed. Love, Cue."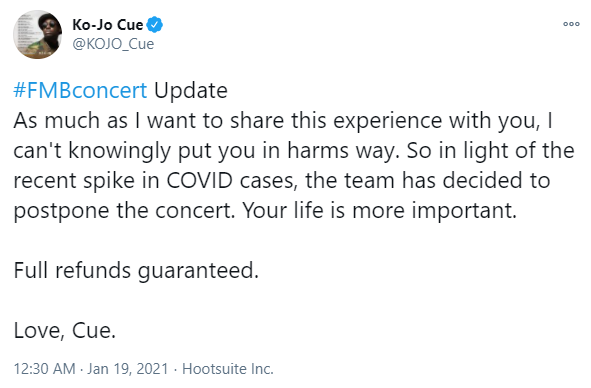 While some fans are happy about the postponement of the concert, others feel disappointed by the decision.
Kojo Cue released a 15-track '<span;>For My Brothers' album in 2019.
'For My Brothers' has been touted by music critics as one of the most well-thought-out albums the Ghanaian music industry has ever seen.
–
By: ghanaweekend.com