Actor Enock Darko is an ingrate!
This morning, I read a story quoting the TV3 Talented Kids alumnus to have said in an interview that the Ghanaian media has not supported him in his nascent movie career.
He told Foster Romanus on eTV Ghana's Late Nite Celebrity Show that after having the opportunity to work in Nigeria, mingling with some of their great actors, the Ghanaian media should have held him up high.
"When I was in Nigeria and I started the Watabomshell thing, none of the media supported me. I say today that all the bloggers and the whole media, none of them supported me but as soon as I came to Ghana, everyone wants to mingle with me.
There are some Nigerian actors that no matter what you do, you can never get to take a picture with them so when you saw your own young Ghanaian actor with these actors whose movies we all watched during our childhood, the least you could do was talk about it and support your boy but you all didn't," he shared.
He also added that but for the fact that he is Ghanaian and Ghana will always be his first home, he would have shunned everyone who did not support him but is trying to get close to him now that he is back in Ghana.
He told a blatant lie in the interview
I never knew he had relocated to Nigeria until I saw posts of Emmanuel Ofori Lapigee, producer of 'Showbiz Daily' on Sammy Flex TV suggesting the same. I also saw publications of him on other Ghanaian websites.
In August 2020, gbafrica.net did this publication on him.
Graphic.com also did a story on Enock on August 14, 2020, about the neglect of talents by Kumawood movie producers.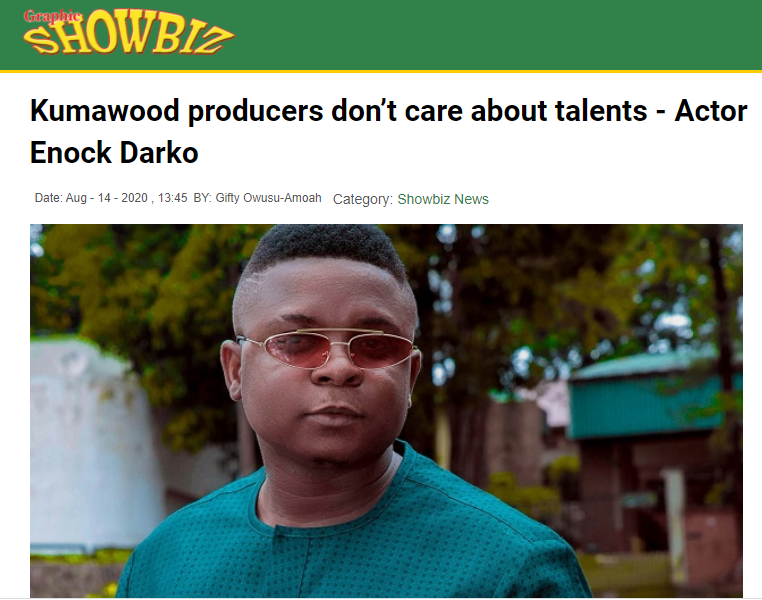 Another website called ghtrendinglinks.com did a story about him, listing the Nigerian artistes he has worked with so far.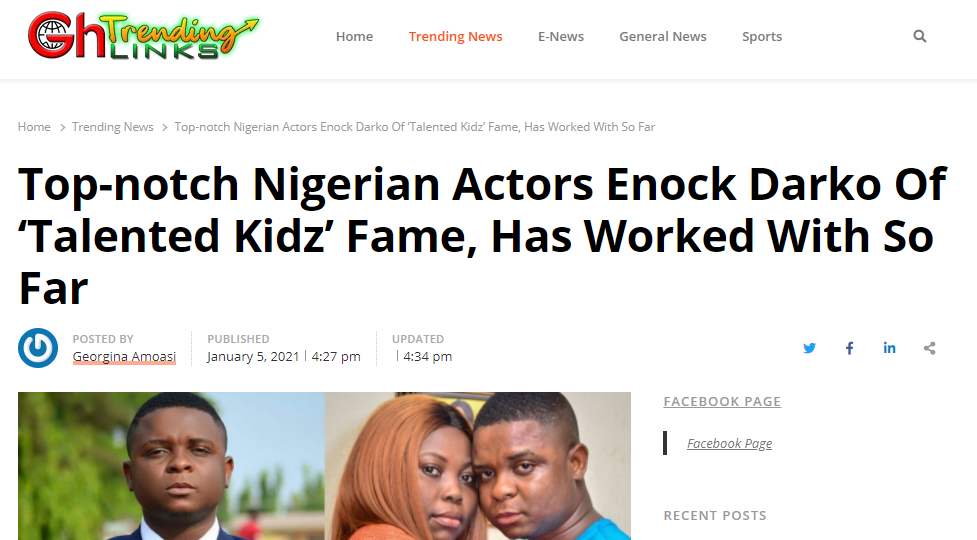 I also saw your articles on elormbeenie.com and asiwomewrites.com. These are just a few of the many articles Ghanaian websites and blogs wrote about him while he was in Nigeria.
This is why he should shut up!
I earlier mentioned Emmanuel Ofori Lapigee, Sammy Flex's producer who constantly shared Enock's posts on social media. Lapigee told me he was in constant touch with Enock and he was the one that usually sent him the files to post for him.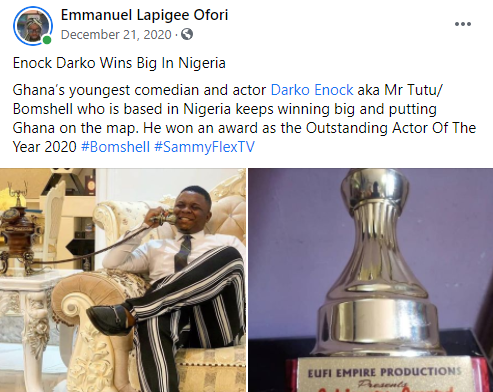 At a point, I even thought Lapigee was part of Enock's team. So when I heard that he had come to Ghana, I thought he would produce him for an interview on any on Sammy Flex TV or Zylofon FM.
I was gobsmacked when I learned from Lapigee that the guy actually requested that he paid him GHS 300 before he would avail himself for the interview (I have screenshots of their chats to prove if he dares me). He said categorically that he would not grant the interview in the absence of the fulfillment.
This is the person who has gotten the balls to talk about support!
If you treat people who have become loyal to your brand like this, how do you expect someone like me, who is still struggling to appreciate your craft to write anything about you?
While in Nigeria, how many publicists did you employ to sell your information in Ghana? You had someone who did that wholeheartedly but when he needed you for an interview that would, in the end, support your brand, you mentioned money. Later, after appearing on other media platforms, you thought it wise to spew that garbage.
Hear this!
Enock, you just started a career that many have plied for years. You are very lucky to have been discovered in a contest that was put together by a media company. You are so fortunate to have had people like Lapigee and other websites write about you when you were in Nigeria.
You are an ingrate; one that does not deserve any support from anybody. If you want to go far learn to appreciate little good deeds.
–
By: Kwame Dadzie | ghanaweekend.com