Song: Wedding Day
Artistes: Ohene ft Flowking Stone
Producer: Ohene
Author of review: Kwame Dadzie (Entertainment Journalist, Citi FM/Citi TV)
Introduction: On 25th December, a young man caught in the gossamer of love intends to take the woman his heart yearns for, down the aisle.
Captured in the form of music, is a kingly treat by Ohene ('Ohene' means 'king' in Twi) and the King of Flow, Flowking Stone.
Music evokes emotions and also sets an atmosphere for different occasions. This is why Ohene decided to put together this piece titled 'Wedding Day' for the occasion of marriage ceremonies.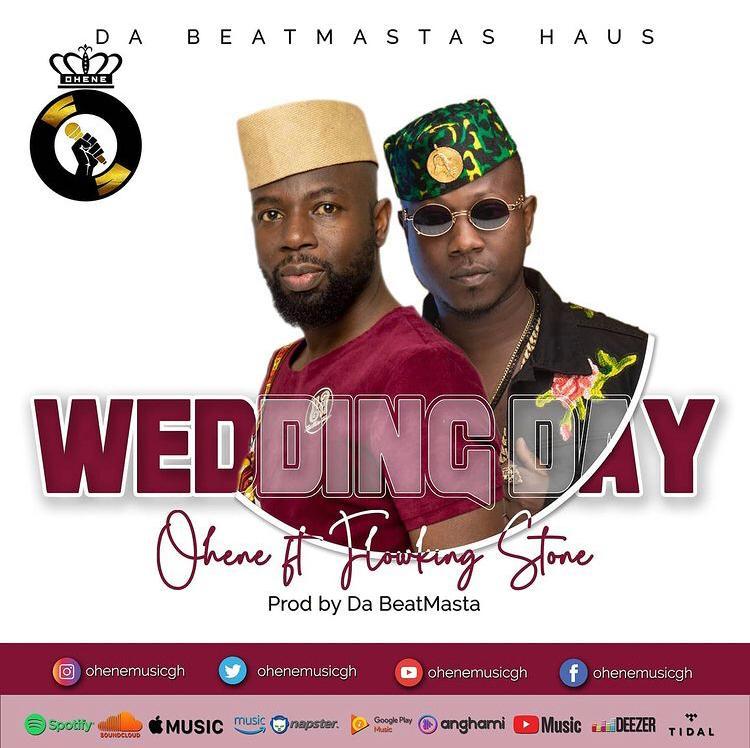 Instrumentation: Ohene produced the song by himself. The music graduate from the University of Education, Winneba, has an inclination towards highlife music and this is evident throughout his songs including 'Wedding Day.'
The lead guitar opens the song with typical highlife strums in four bars and invites the other musical instruments. The bell joins with the 'ka., ka., ka: ka.ka' highlife ostinato, together with the keyboards giving a bed to the progression. The horns then provide a strong intro before Ohene starts singing the first verse.
The groovy baseline, the rattling sound of the maracas, the sturdy rhythms produced by the drum kit, and other percussion instruments complement the highlife feel for the song.
After the third verse, he makes room for the lead guitar and the other instruments to breathe some life into the song.
Composed in Key C Major in 4/4 time signature, 'Wedding Day' is reminiscent of the type of highlife that was done in the past by music greats like Jewel Ackah, King Bruce, ET Mensah, Pat Thomas, among others.
Message: 'Wedding Day' is a song about love. It is basically a song that can be played at any type of wedding ceremony. It can also be enjoyed by lovers who are yet to cement their relationships with any form of the marriage ceremony.
The writers of the lyrical text (Ohene and Flowking) speak in the first-person narrative voice. The song, therefore, communicates directly to the target.
The first verse starts with Ohene talking to the woman of his heart into agreeing to marry him. Typical of any young man wooing a lady, he tells the woman, he cannot live without her. He even promises to marry her on 25th December.
Flowking, in the second verse smoothly adds his vibe to Ohene's foundation. In his rap, he talks about how he has been enchanted by the love of the woman. He even says he's heard a lot of rumours about her, but he is not paying heed to any of those.
The beauteous layer of harmonies under Flowking's rap is one that makes the rap delivery more enticing.
Flowking, knowing that 'Wedding Day' is a party song, did not do any hardcore rap – no embellishment whatsoever. He really went simple and sweet with his delivery.
Ohene continues with a third verse that tilts towards a bit of ragga or what is called melodic rap in other areas.
Vocal Delivery: Ohene has a silky voice timbre and his vocal performance rest sonically on the instrumentation.
Content analysis: I personally think the song is too long. Five minutes, twenty-one seconds. Damn!
Even though generally I like the music and its composition, I don't find the chorus catchy enough for a commercial song. 'Wedding Day' is a beautiful work of art that does not have 'magnetising factor' for the ordinary music lover. The song would resonate more with popular music lovers if he used more catchy hooks and melodies for the chorus.
Ohene's depth of knowledge in music makes him sound too 'academic' and byzantine with his compositions. He treated the song as one of his choral pieces.
Ohene promising to get married to his lady on 25th December also reminds me of a friend who always gave a particular date as when he would get married but never gave the year it would happen.
A lot of young women are easily wooed into relationships at the mention of 'marriage.' For most of these women, marriage is the utmost achievement in life.
Ohene knowing this bait employs it in his song. And oh, the wedding happens on a Christmas day. So if it truly takes place, that becomes a double celebration for the double.
Aside from that, this is a song that basically mirrors how young men set out to win the love of ladies they find attractive.
Rating: 'Wedding Day' is a fantastic piece of music that deserves a 75% rating.
More about Ohene
Born and bred in Tema, Ohene, christened Ohene Adu-Nti, started music after his O'level education at Chemu Secondary School. He met Nana Fynn of Odo Handkerchief fame who taught him how to play the piano.
His association with Nana Fynn made him learn more from some music prodigies such as AB, a music producer, Lokal Krysis, a Reggae sensation based in the U.S., and Bright Amankwah, a US-based classical musician, whom he attended church within Tema.
After 6th Form, Bright Amankwah then a lecturer at UEW urged him to pursue a degree in music. Since then he's been one of the pivots in the Ghanaian music industry. He's was trained by and worked with the likes of Fred Kyei Mensah (Fredyma), Dominic Ansah Asare of MIDO productions, T.V.O. Lamptey of Vision-Audio Lab, Dan Bassey of Bassey Mix, Kofi Agyeman (Light Seekers, Sunyani) amongst a list of notable Sound Engineers.
To his credit, Ohene trained music producers KinDee and KayDee, both best known for producing Kofi Kinaata and Ernest Opoku respectively.
He worked with One Mic Entertainment whilst in Ghana as an Artiste and Repertoire Manager to Okyeame Kwame.
He has a very rich background in the choral industry, directing the Tema Youth Choir successfully for 7 years, and has to his credit several popular choral compositions including 'Fire Burning in My Soul', 'Hwe M'ahuofe', 'I'll Lift Up Your Name', among others.
–
By: Kwame Dadzie | Ghana Weekend