In reaction to an Instagram reel from August 27 that spotlighted their encounter with Don Jazzy, we reached out to Nana Mitch and Schardo Mitch for some much-needed context.
What an eventful month it has been for the Mitch twins; right from Ghana to Dubai and now Nigeria and it keeps getting better. The two were recently spotted in a photo with Don Jazzy in a post from Nana Mitch, posing as the "Dons of Lagos." But the surprise didn't just end there, users were shortly treated to a reel from the super producer's Instagram as well, with a caption that read: "So l had some august visitors from Ghana today. They taught me a few things about content creation. Thanks a lot, guys. You are always welcome here".
Unexpected! The reel – which now has over 836K views – proceeded to capture the Snapchat-famous twins; Nana Mitch and Schardo Mitch, alongside Hajia Bintu and two others at Don Jazzy's mansion in Lekki, all doing a fun formation dance with him to Crayon's new song 'Ijo' (Laba Laba).
"He was super welcoming and so friendly!", the Mitch twins shared about the Marvin Records head honcho. "He had us introduce ourselves and speak about our respective careers – so we showed him some of our works. He loved our creations, so much so that he wanted us to give him some content creation 101s with Crayon's new song 'Ijo' (Laba Laba) ASAP, hence the reel. It was a big moment for us and we're thankful to Don Jazzy", Schardo Mitch proceeded to explain.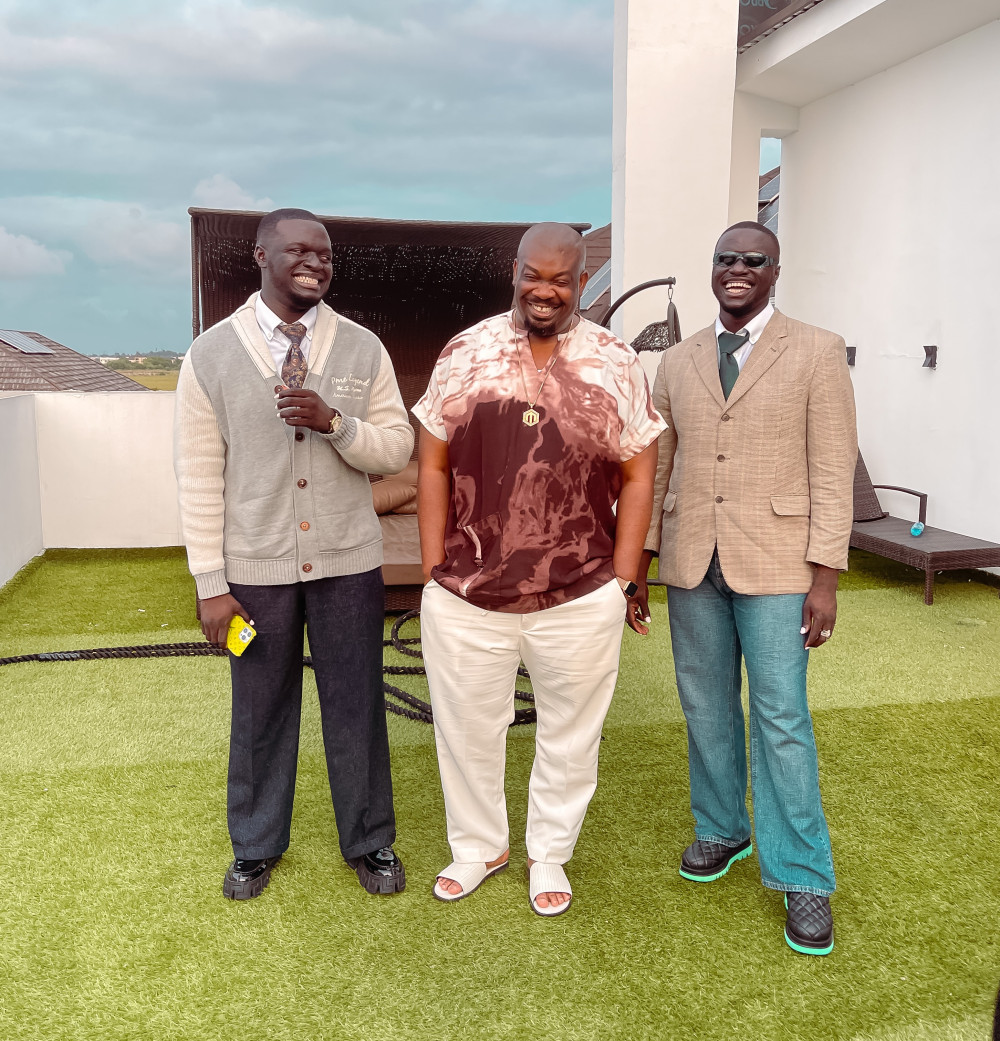 Likewise, Don Jazzy is said to have expressed lots of interest in Nana Mitch's Snapchat lensstudio prowess, with the twin in question disclosing: "He loved the Snapchat lenses I've made and how far I've come with them. And as a result, I've got something on the way for one of his artists. Keep your eyes peeled!". About how it all came together, Nana commented, "Hajia Bintu was the ultimate plug – big shoutouts to her. She had a meeting with Don Jazzy at his residence and she invited us to join her. Get yourself a friend like her".
The news comes as a big boost for Nana Mitch and Schardo Mitch on their rise to fame, which in itself is a no-brainer as Don Jazzy has and continues to create lots of mega stars we've come to love – Tiwa Savage, Wande Coal, Rema, Ayra Starr, LADIPOE and a lot more products of his ingenuity. What lies next for Nana Mitch and Schardo Mitch is anybody's guess. The two are currently in Nigeria with Hajia Bintu dropping excerpts of their next big move along the way and you can get a peek of it all on their socials below.
In case you missed it, you can check out the content they made for Don Jazzy on his reel here: 
View this post on Instagram