The Black Star Line Festival took place at the Independence Square in Accra on Friday, January 6,2023.
The much-publicised event saw dazzling performances from famous American and Ghanaian artistes such as Vic Mensa, Chance The Rapper, T-Pain; Jeremih, and Sarkodie
One of the most disparaging moments that nearly marred the much attended event was how the Sarkcess Music's boss Sarkodie was prevented by the event security from entering the venue prior to his performance.
The famous rapper and his security team had a confrontation with the event security before he was finally allowed to enter.
The incident has stirred huge controversy within the showbiz fraternity, especially on Social media.
While others believe the 'Adonai' rapper was treated unfairly, others have also trolled him for calling himself the Landlord but has been denied access to perform on his own land.
Reacting to the cloying incident via twitter, Sarkodie angrily described those trolling him as 'Mmoa' – which literally means 'Animals' in the twi dialect.
"Nobody doing it like moi…forgetti an omo tan me no omoy3 mmoa," he said
Check his 'Mmoa' tweet below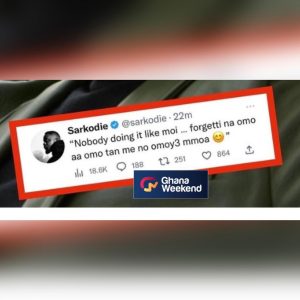 By Reagan Mends