Quophi Okyeame of Akyeame fame has said that the main reason most music groups don't last is that individuals become self-centred and put their needs above that of the group.
In a phone interview on DayBreakHitz with Andy Dosty, he said "people become more self-centred and they realize that they were created for particular purposes other than what the group actually seem to achieve", he said.
When asked if that was the case of Akyeame which he once belonged, he said, "it's been the case in every group".
"Groups from my experience are basically to serve a particular purpose for a period of time. Everybody becomes individualistic at a point and something must give for something to happen", he added.
Touching on why the Akyeame group fell apart, he said, "What happened was, we decided to disband even though it wasn't cordial. Like I said something had to happen for something to happen. I think individually we became different people when we returned from our sojourn".
According to him, he was much more business-minded and the other half of the group, Okyeame Kwame was about the show and the two of them together were a perfect pair.
"You'll realize that I am much more business-oriented and I believe that the thing is showbiz and Kwame and myself we were the perfect pair in the description of the term. When we say show business, I was much more business and he was much more show. And I think even after the split if you look at it right now it's been the same- I am a businessman, he is a showman and he has continued on that tangent and I have carried on with mine", he stated.
He concluded that he and his former group member have been successful at what they are good at since the group.
"I think the purpose has been served that we came together and if actually you go even back into time, you'll realize that I wasn't a performing artiste. I was writing. Kwame is the one that made me a performing artiste by inviting me to join and I think it was a perfect pair. That's what happened", he said.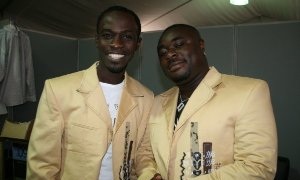 Quophi Okyeame (by real name, Daniel Kofi Amoateng) is one half of the famous hiplife dynamic duo, Akyeame (with Okyeame Kwame).
–
By: Hajia Lamy Gates| ghanaweekend.com