Highlife artiste NaaNa Blu has been nominated in four categories in this year's Western Music Awards.
The Quophimens Musiq signee earned spots in the Female Artiste, New Artiste, Highlife Artiste and Highlife Song categories.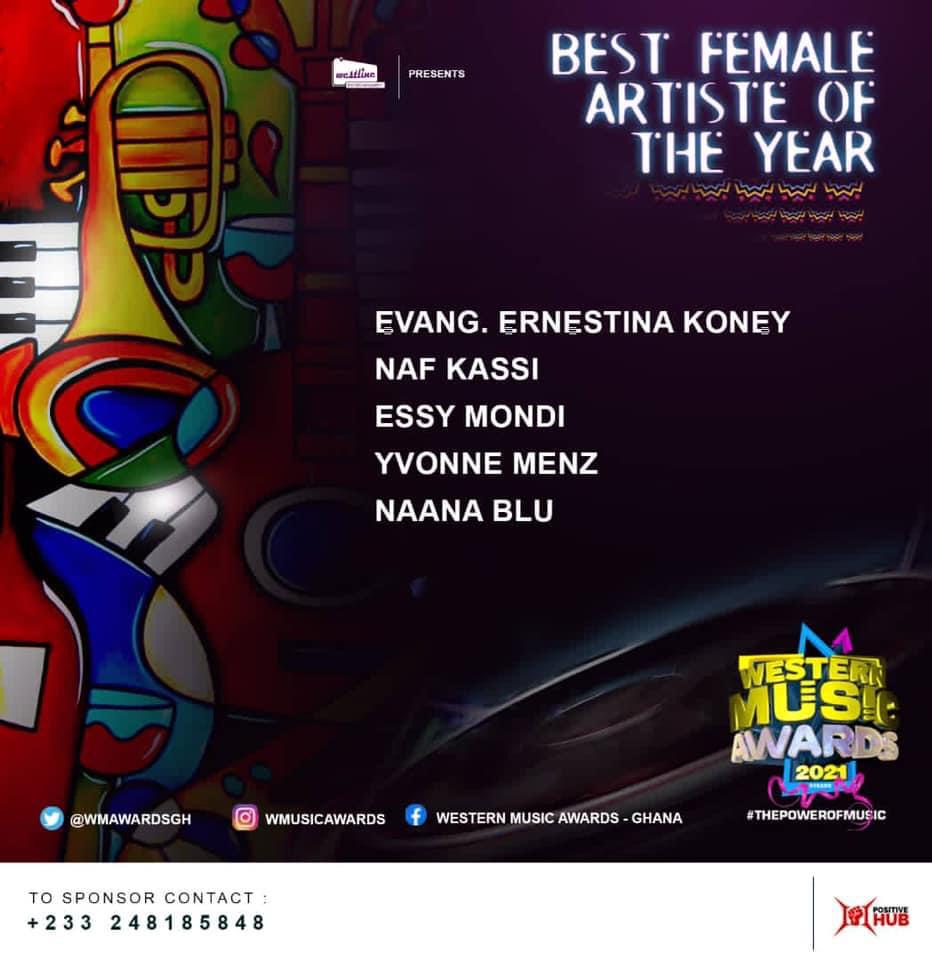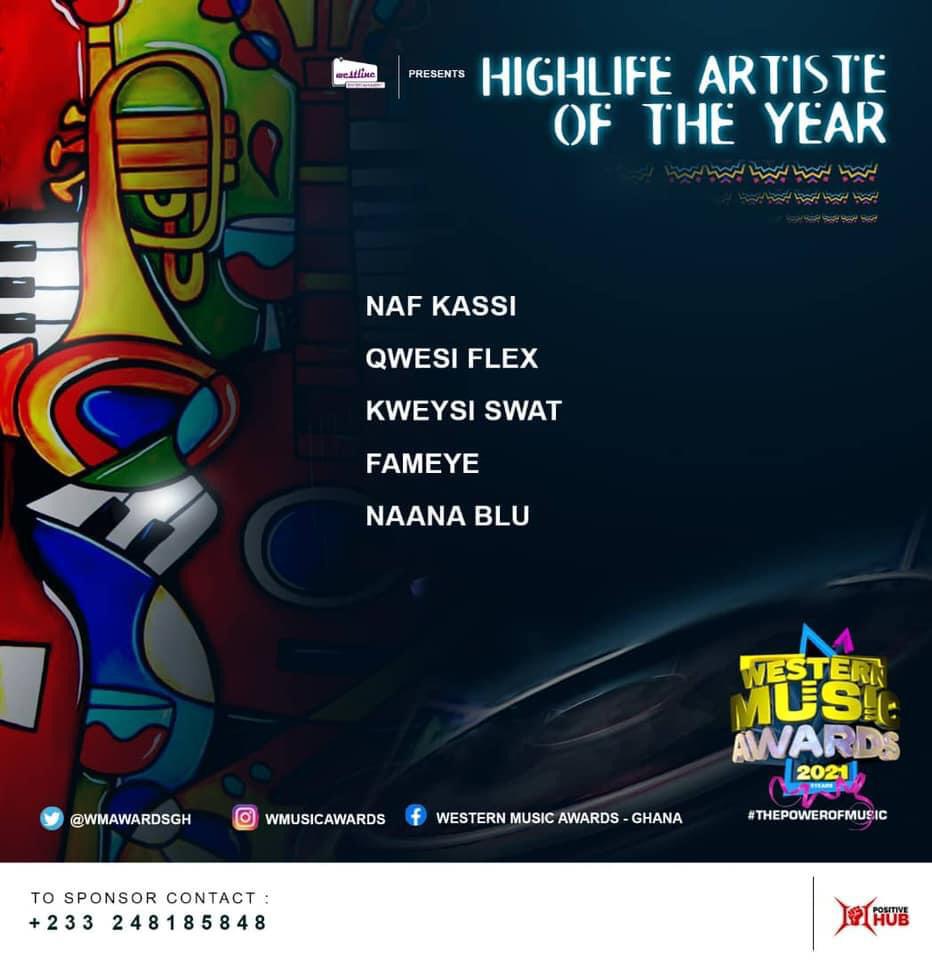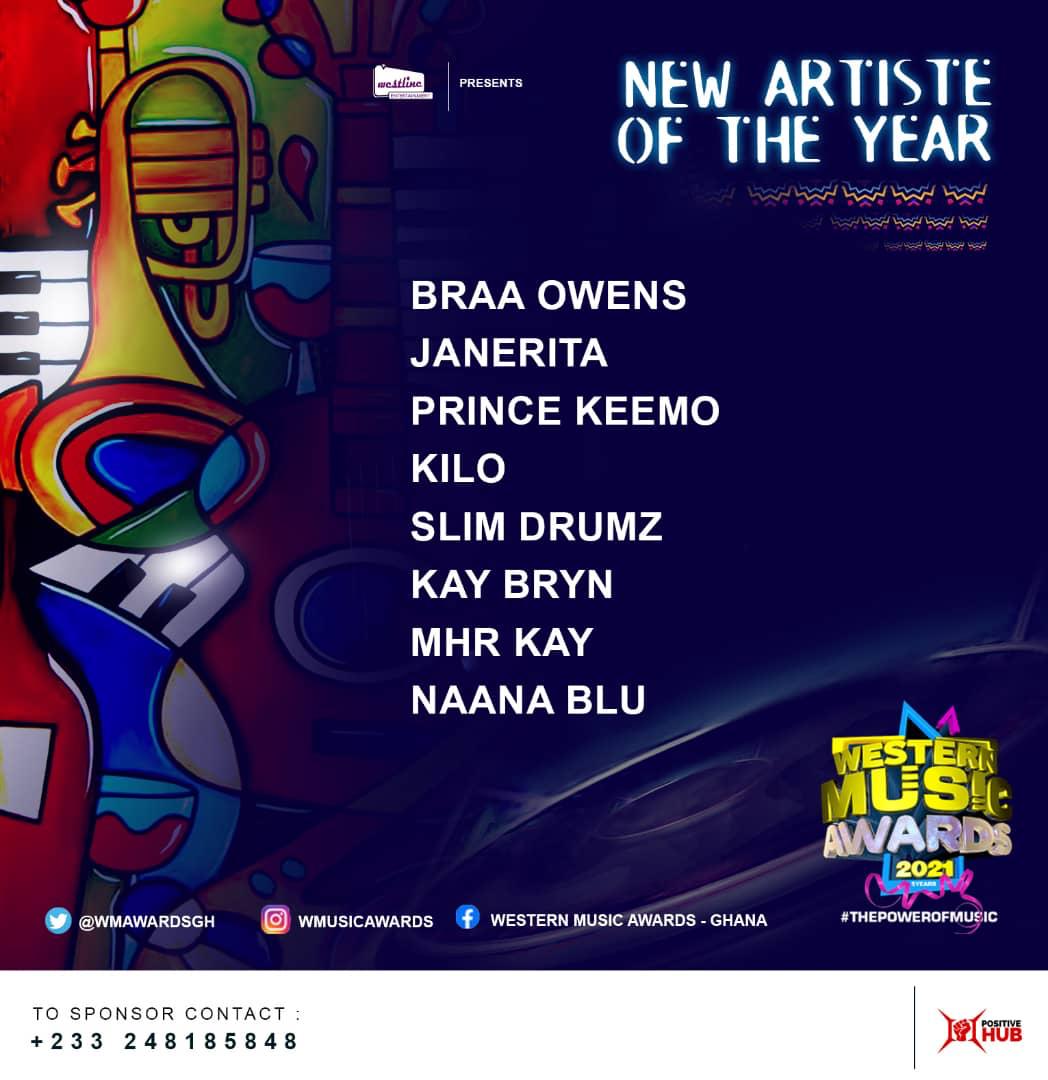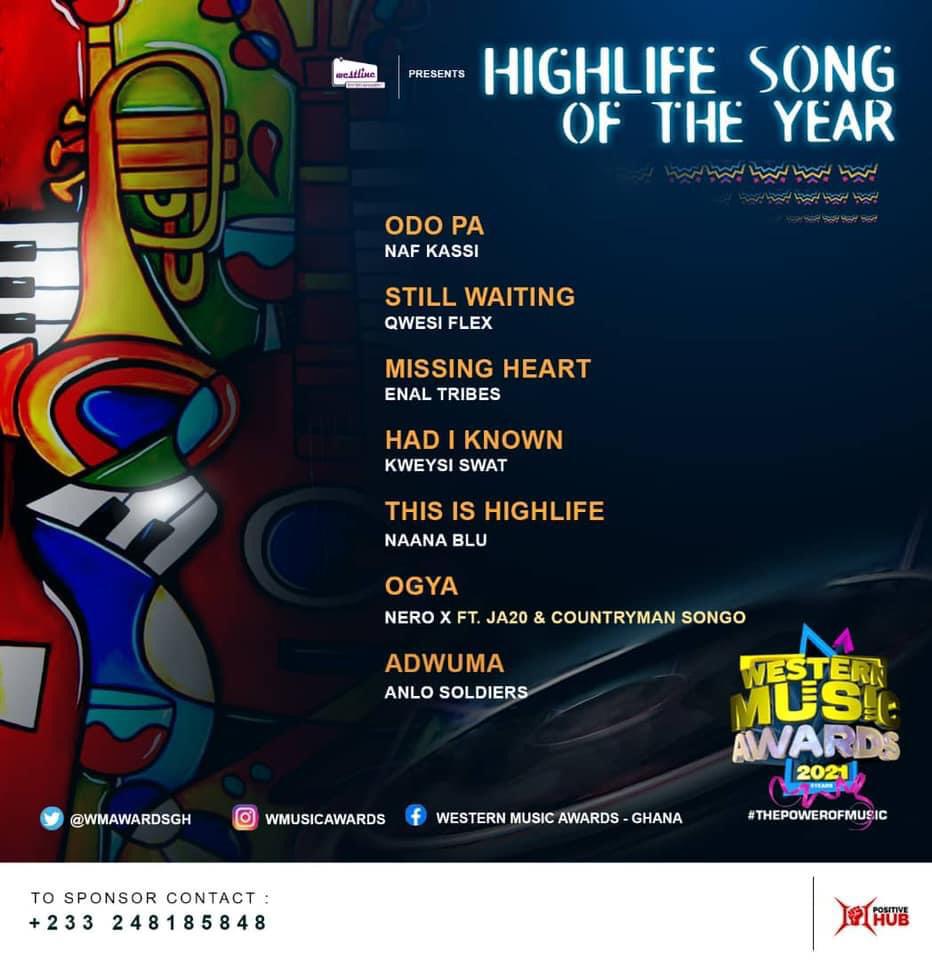 NaaNa Blu released her maiden EP, 'This is highlife' in September last year.
The body of work by the 'No Pressure' Singer has five (5) highlife songs.
The album is available on online streaming platforms.
NaaNa has other songs such as 'Sugar Cane', 'No Pressure', 'Afehyiapa' and 'Save Us.'
Western Music Awards is organised by Westline Entertainment.
Check out the full list of the nomination below:
ARTISTE OF THE YEAR
AYESEM
KECHE
FAMEYE
DOPENATION
NAVAH
SK FRIMPONG
AFROPOP SONG OF THE YEAR
Go Down – PRINCE KEEMO
Matter – KILO
Hard Feelings – QWESI FLEX
Rain On My Eyes (R.O.M.E) – REIGN GODz ft. Kiubama
Baa Sumo Mi – KAY BRYN
Bad Man – DJ EDITA ft. Abi.Deen
Obolo – FAMEYE ft. Mr. Eazi
Makoma – Nero X
EP/ALBUM OF THE YEAR
QWESI FLEX – The Journey
DEMZI – Diamond in The Slum
AYESEM – Legacy
ABI.DEEN – Split
FAMEYE – Greater Than
NAVAH – Greater Love
BEST COLLABORATION OF THE YEAR
PO KWABENA DONKOR ft. Joyce Blessing – Only You
JANERITA ft. Kofi Kinaata – God of Miracle
BLAK REVOLUTION– Blak Revolution Cypher
ORIGEE ft. Bobo Dada Bee – Something
KECHE Ft. Kuami Eugene
AYA RAMZY B ft. Qwesi Flex – Brother Man
FAMEYE ft. Kwesi Arthur – Long Life
NAVAH ft. Joe Mettle – Medofo Pa
BEST FEMALE ARTISTE OF THE YEAR
EVANGELIST ERNESTINA KONEY
NAF KASSI
ESSY MONDI
YVONNE MENZ
NAANA BLU
BEST GROUP OF THE YEAR
YSE
KECHE
WESTSIDE GANG
DOPENATION
FNF
APOWA YOUTH CHOIR (AYC)
ANLO SOLDIER
BEST RAPPER OF THE YEAR
REIGN GODZ – Yewo Vibes
AYESEM – Party
ORIGEE – Devil in my chamber
WEAPORN – DBS
THE TOWNSHIP – Cuba
NEMISIS LOSO – Caution
BEST VIDEO OF THE YEAR
PO KWABENA DONKOR ft. Joyce Blessing – Only You
QWESI FLEX – Still Waiting
SLIM DRUMZ – Bounce
AYESEM – Love Reigns
ESSI MONDY – Barman
YSE – Hear Say
KECHE ft. Kuami Eugene – No Dulling
THE TOWNSHIP – King
FAMEYE ft. Kwesi Arthur – Long Life
DOPENATION – Thank God
TRAY ZEE ft. Kofi Kinaata – Oye Hit
BEST ENTERTAINMENT SHOW OF THE YEAR
MC BOBBY ZARO – E-Extra (Ahobraseye 98.5 Fm)
AIRMARSHALL PEACEMAKER – Big Moment (Big 96.7 Fm)
FEELING DADDY – Showbiz Today (Empire 102.7 Fm)
ATO KWAMINA OTOO D'GEM – Entertainment Review Show (Connect 97.1 Fm)
MACALL MENSAH – Y Entertainment Podium (Y 98.9 Fm)
GOSPEL ARTISTE OF THE YEAR
PO KWABENA DONKOR
JOOJO ESHUN
JANERITA
YVONNE MENZ
NAVAH
SK FRIMPONG
GOSPEL SONG OF THE YEAR
Only You – PO KWABENA DONKOR ft. Joyce Blessing
Dedew – BRAA OWNES
Higher Praise – EVANG. ERNESTINA KONEY
God of Miracle – JANERITA ft. Kofi Kinaata
Medofo Pa – NAVAH ft. Joe Mettle
HIGHLIFE ARTISTE OF THE YEAR
NAF KASSI
QWESI FLEX
KWEYSI SWAT
FAMEYE
NAANA BLU
HIGHLIFE SONG OF THE YEAR
Odo Pa – NAF KASSI
Still Waiting – QWESI FLEX
Missing Heart – ENAL TRIBES
I Had Known – KWEYSI SWAT
This is Highlife – NAANA BLU
Ogya – NERO X ft. Ja20 & Countryman Songo
Adwuma – ANLO SOLDIERS
HIP HOP ARTISTE OF THE YEAR
SLIM DRUMZ
REIGN GODZ
ABI.DEEN
THE TOWNSHIP
NEMISIS LOSO
HIP HOP SONG OF THE YEAR
Yewo Vibes – REIGN GODZ ft. Lasking Trobe & Bizzy Smasher
Bounce – SLIM DRUMZ
Time Up – AYESEM ft. Eye Judah
Killer – HYNDU
Mafia – ORIGEE
Drip – ABI.DEEN ft. Casta Troy
Cuba – THE TOWNSHIP
Bad – DOPENATION
HIPLIFE ARTISTE OF THE YEAR
BOBO DADA BEE
AYESEM
ORIGEE
KECHE
WEAPORN
DOPENATION
HIPLIFE SONG OF THE YEAR
Better Days – BOBO DADA BEE ft. Kofi Kinaata
Something – ORIGEE ft. Bobo Dada Bee
No Dulling – KECHE ft. Kuami Eugene
By June – AYESEM
Okomfour Kwaadee – FAMEYE ft. Kwesi Arthur
Thank God – DOPENATION ft. Kofi Kinaata
MOST POPULAR GHANAIAN SONG OF THE YEAR
Sore – YAW TOG
No Dulling – KECHE ft. Kuami Eugene
Dw3 – MR DREW & KRYMI ft. Sarkodie
Enjoyment – KIDI
Open Gate – KUAMI EUGENE
La Hustle Rmx – MEDIKAL ft. Criss Waddle & Joey B
Adom (Grace) – DIANA HAMILTON
Money – KWEKU FLICK
Happy Day – SARKODIE
Ataa Adwoa – BOSOM PYUNG
Something Nice – KOFI KINAATA ft. Patoranking
MOST POPULAR REGIONAL SONG OF THE YEAR
Better Days – BOBO DADA BEE ft. Kofi Kinaata
Weekend – QWESI FLEX
90's Badbois – WILLISBEATS ft. Afezi Perry
Perseverance – TJDJ ft. Kebre & Nemisi Loso
Brother man – AYA RAMZYB ft. Qwesi Flex
Something – ORIGEE ft. Bobo Dada Bee
Devils Work Cover – WEAPORN
By June – AYESEM
Capital Town – F N F
NEW ARTISTE OF THE YEAR
BRAA OWENS
JANERITA
PRINCE KEEMO
KILO
SLIM DRUMZ
KAY BRYN
MHR KAY
NAANA BLU
RADIO DJ OF THE YEAR
DJ EDITA – Y 97.9 FM
MR. X – Ahobraseye 98.5 FM
DJ STORM – Beach 105.5 Fm
DJ WASTY KAY – Nyansapo 89.9 FM
TJ DJ – Y 97.9 FM
REGGAE/DANCEHALL ARTISTE OF THE YEAR
SEEKJAH
NEFFGEE
FRESHA BONE
DEMZI
BLAQKMALLAM FYAH
REGGAE/DANCEHALL SONG OF THE YEAR
Stop – NEFFGEE ft. Demzi
Life Struggles – FRESHA BONE
Diamond in the Slum – DEMZI
Lit Up – KEBRA
Finest (Dem Fi Nuh) – HUMBLE
As It Is – QUESI GHANA ft. Sugar Daddy
URBAN GOSPEL SONG OF THE YEAR
Do Well – MINISTER BOAKYE ft. Pastor Clement
Na You Be God – JOOJO ESHUN
No Body Like You – REV. CHRISTIAN ENNIN ESHUN
Who I Am – NAVAH
BEST PRODUCER OF THE YEAR
TFSTUDIOS
WILLISBEATS
JAKEBEATS
BODY BEATS
ELORMBEATS
DDTBEATS
BRASS BAND OF THE YEAR
NOTHING LATE
SUPER SONIC
GOLDEN SQUAD
BLUE SCOUT
EVERGREEN MOVEMENT
–
By: ghanaweekend.com