Multiple-award winning Ghanaian singer, Kofi Kinaata has released a part two of his evergreen hit single– Thy Grace. 
The reigning song writer of the year at the Vodafone Ghana Music Awards teamed up with popular music producer Kin Dee to birth another timeless production.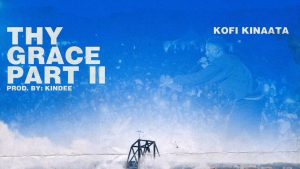 This will be Kinaata's second single for the year 2021 and it just may go head-to-head in terms of lyrical content and storytelling prowess exhibited in part one of the same. 
Thy Grace– a song in two parts sees Kofi Kinaata thanking God for disappointing the expectations of haters and naysayers in part one but also basking in the full complements of the grace of God– 'changing levels' with a variety of testimonies, in part two. 
Apart from having a high replay value, both songs reflect the true realities of the average Ghanaian who has to make ends meet. 
With a cross-platform factor, this record will see consumers of good highlife music jam to it in the clubs/parties and then at church on Sundays. 
It is safe to say that this song may just be the new anthem for every hustler on the streets of Ghana, the household struggling to afford their daily bread, the trader at Makola who is not having a booming season in sales, the young professional marking time with their career and for those whose faith in God seem to be wavering.
A huge shout for Best Gospel Song of the Year at the next Vodafone Ghana Music Awards?
Listen to Kofi Kinaata – Thy Grace Part 2. here:
Listen to Kofi Kinaata – Thy Grace Pt. 1 here:
By: Olele Salvador | Ghana Weekend