We seemed unbothered and continued to tell ourselves God loves us more than other people from all over the world until the unexpected happened recently.
If we allow churches to go on and operate, Coronavirus will be a prayer topic.
Yes, we're a Godly country but a broken-hearted young man, Sammy once said: "The past is not the present".
Until today, we are one country and everything was just nice.
Were we not the ones online trolling each and beefing and making up at the same time?
We thronged Jamestown and ate kenkey to the glorification of the land. All the ancestors would be jubilating in their graves, I think.
All these came to a halt the minute Ghana confirmed its first two cases on Thursday, March 12, 2020.
"Both individuals returned to Ghana from Norway and Turkey. So these are imported cases of COVID-19."
"I wish to assure all Ghanaians that the Government of Ghana together with all health partners will continue to work assiduously to ensure the situation is contained. Both patients are currently being kept in isolation and are stable. We have initiated processes for contact tracing." the Health Minister, Kwaku Agyemang-Manu announced at the press briefing on Thursday.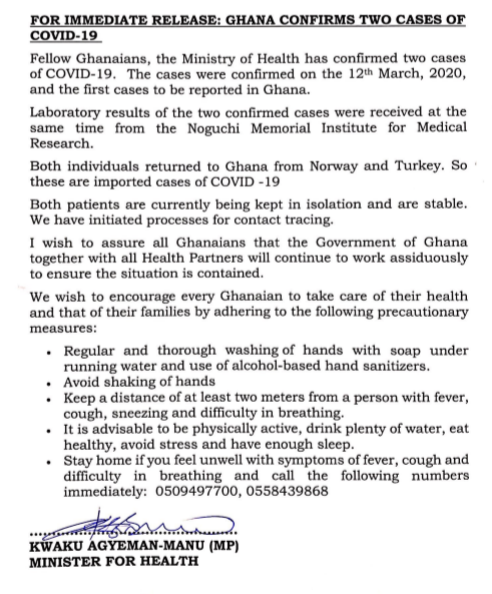 On Friday, I walked through shops in the fuel station, the pharmacies and some other shops in search of hand sanitiser in Adabraka.
The lady at the pharmacy was not even cheerful. She said: "we don't have."
Another lady from a different shop I went to, said I should have come earlier. She, however, assured me she was going to get new products the following day so I could come and check.
I went online and there were similar stories of hand sanitiser shortage. Actually, I didn't understand. The cases were confirmed in the evening. When did people wake up to go ransack all the shops like that? Smart move- I'd say: that means we take things seriously. But… no that is not even the case.
When I got to Circle, I was lucky. There were varieties- glittery, perfumed, body splashes and anything that looked like something one could apply in the palms. Each of those were selling at ridiculous prices but how for do? I've always had hand sanitizer in my bag but I needed to get them for my mom and siblings so I bought them anyway.
On Sunday, four new cases were confirmed, raising the number to a total of 6.  That was when the matter became 'real'.
I thought 15 cedis was ridiculous and then I saw stories and pictures shared to social media. A mere hand sanitiser is now selling at GHC150.
Just wow! If we were joking, somebody would say why, did the sanitiser go to Harvard? Well since it's a serious time, I mean why would one do that? The tiny bottles are also sold online for GHC20- that is beside the delivery fare which is usually more expensive as compared to the product bought.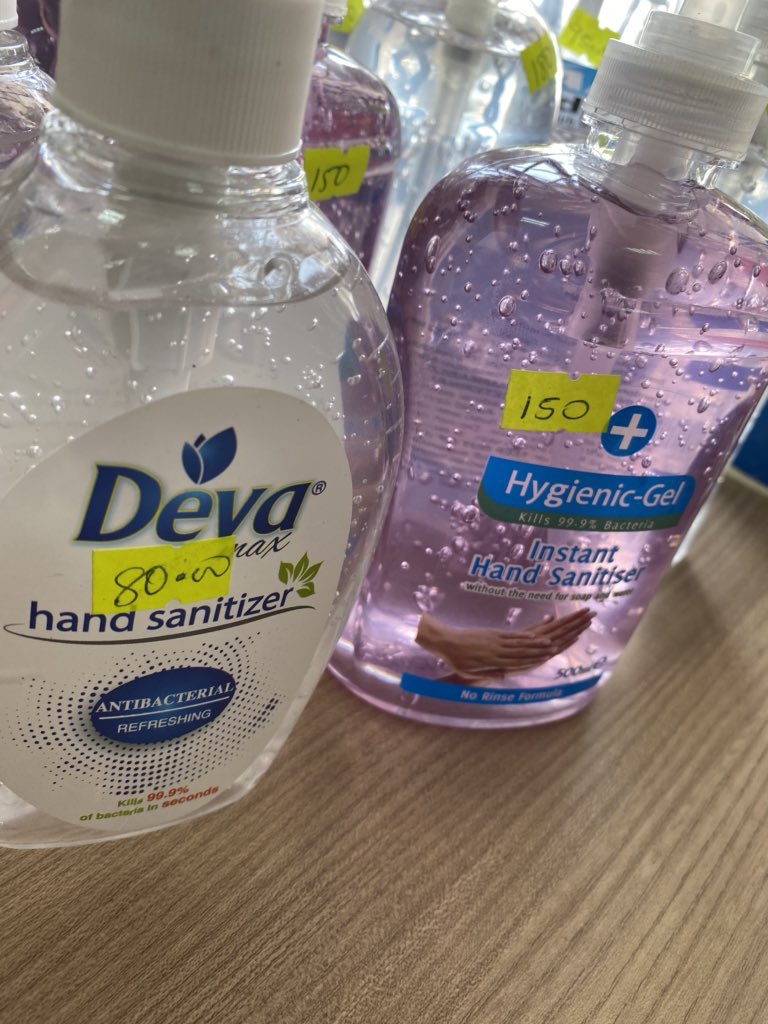 Not only are people stealing from their brothers and sisters, but they are also selling fake stuff at exorbitant prices.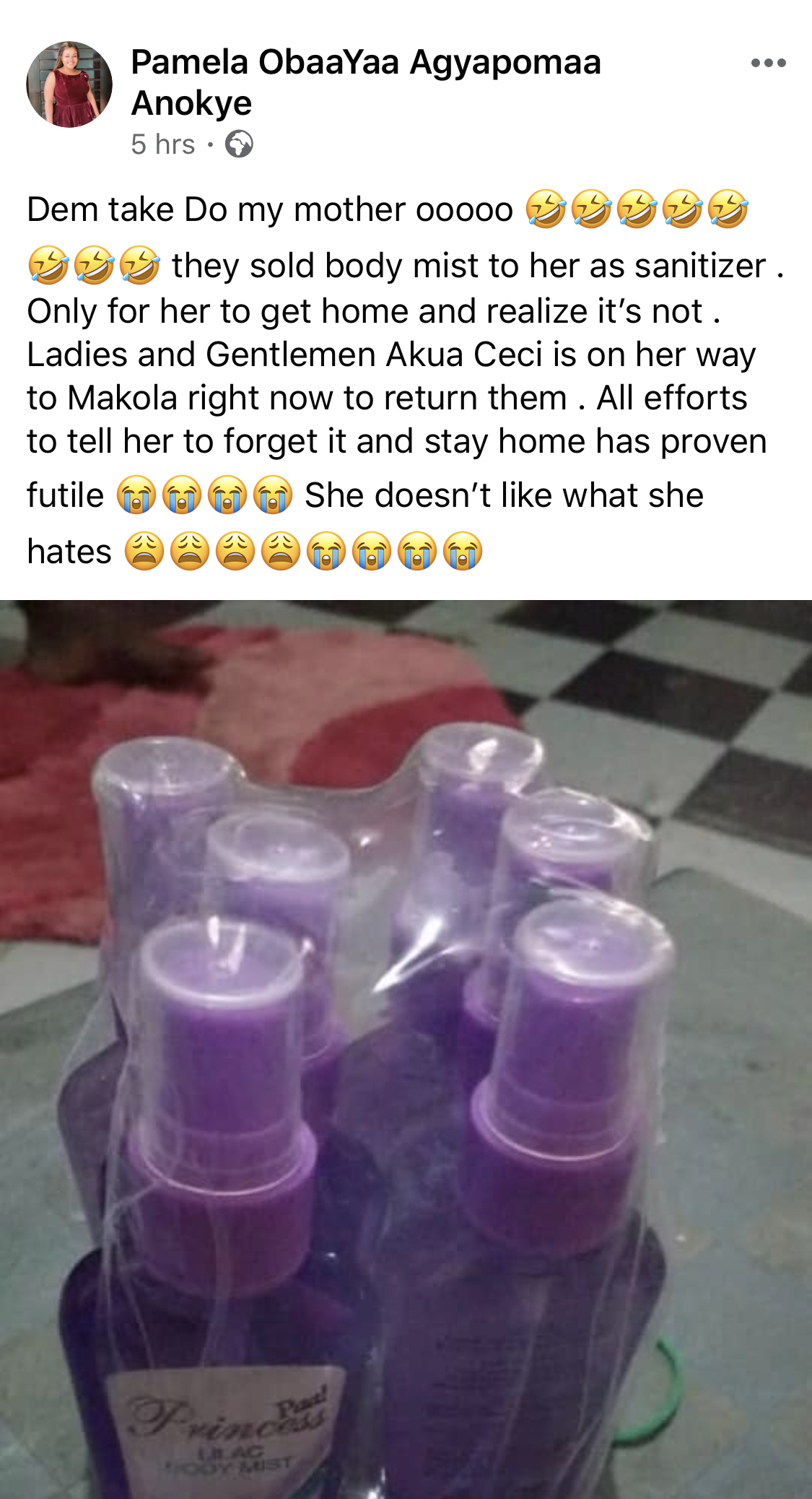 We frown on corruption and government misappropriating funds yet we are selling common hand sanitizer at outrageous prices.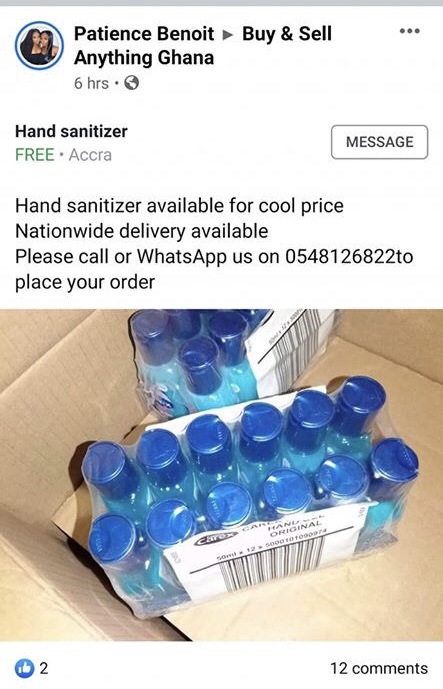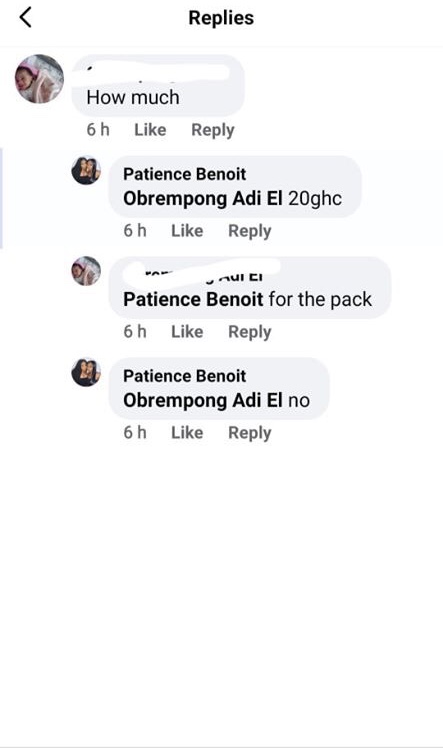 People are also stealing mounted hand sanitizers and soaps in public!
And some of us do not see anything wrong with spitting everywhere.
The ones who cannot shut up while on public transport. You start talking from the moment you sit in the bus until you get to your destination.
There are others who call you too known because you use hand sanitiser or that you don't want to engage in handshakes and hugs.
And there are people on the radio telling listeners to just chew garlic and pepper and the 'comininis'.
People are emptying shelves at the malls and all the plantain on the market. You're using your money so it's no crime but if you stock your house with everything and your neighbours are lacking, are we going or coming?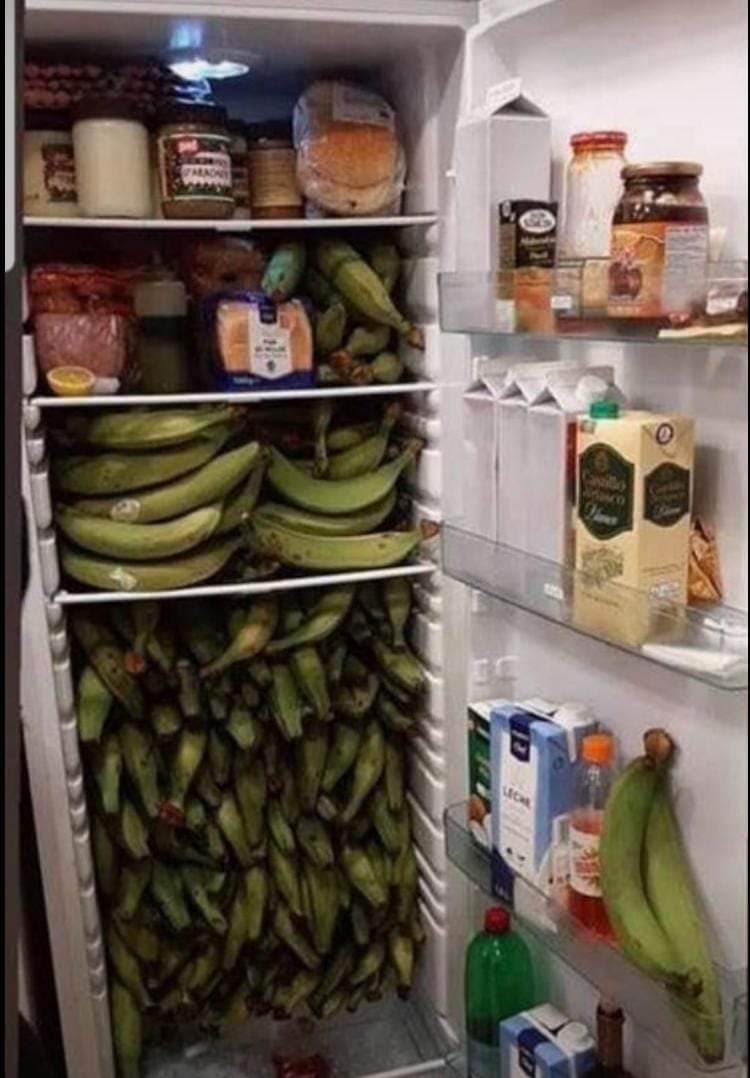 At 10 pm on Sunday [March 15, 2020], the president addressed the nation and put a ban on public gatherings which included churches, mosques, weddings, funerals, even schools were put on hold for at least four weeks.
"I have decided in the interest of public safety and the protection of our population to review the public gathering advisories earlier announced as follows: Firstly, all public gatherings including conferences, workshops, funerals, festivals, political rallies, sporting events and religious activities, such as services in churches and mosques, have been suspended for the next four (4) weeks," he said.
And what are people saying? The churches are not smiling, the mosque: people are still coming together to pray. The usual one week and forty days tradition held in respect of the dead is also on hold and I'm not sure the traditional council is happy with it.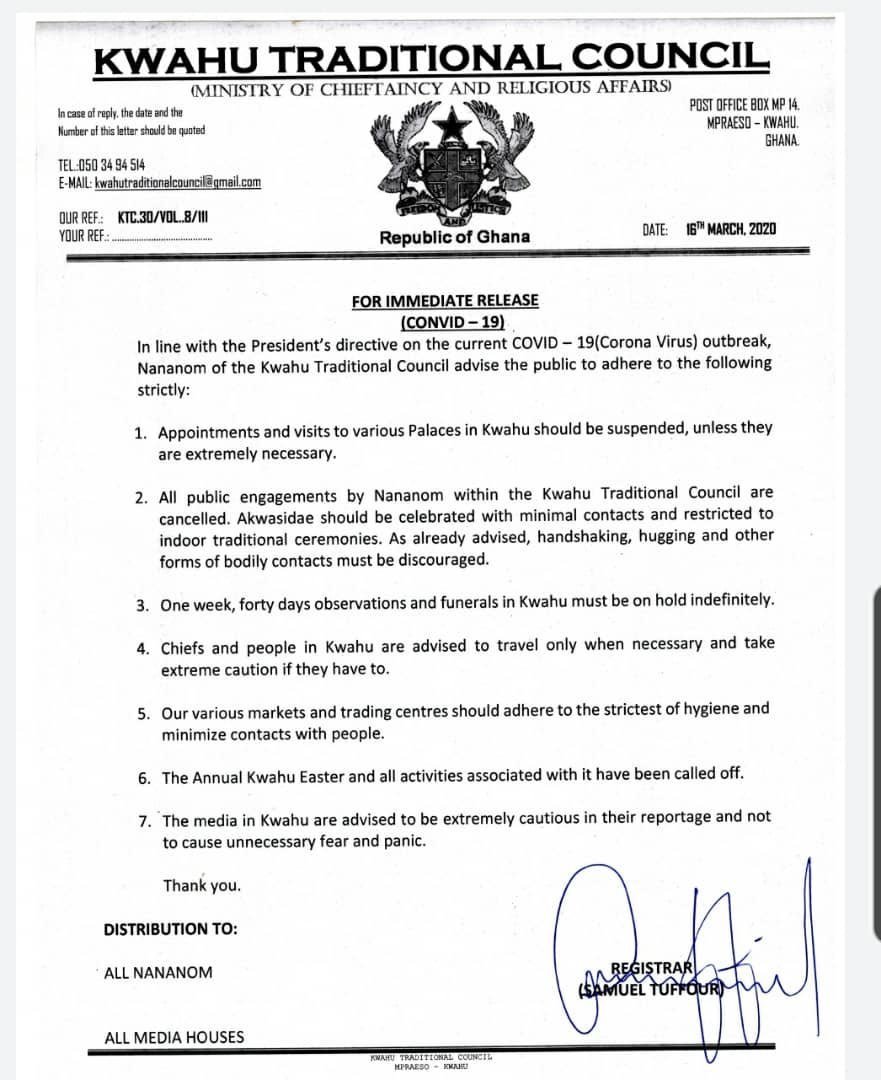 No wedding Jollof kanzo for four weeks, no 'collection' for four weeks, no sodabi for four weeks- wheeew.
"I shall not die. I'll live and declare the good name of the Lord." Did you say amen to that? So, what you're doing, is it good?
Nothing has happened yet and we're already giving up on humanity.
I am not praying for the pandemic to sweep over the country as it has in other places but should the number increase and we continue like this, we might die before the pandemic actually does what is happening in other parts of the world.
What happened to being your brother's keeper?
If you buy everything on the shelf and your sister got none and you have no intentions of sharing, well maybe the rest of us should mark our doorposts with the blood of the lamb and hope the pandemic passes over.
Exodus 12:7 King James Version: And they shall take of the blood, and strike it on the two side posts and on the upper door post of the houses, wherein they shall eat it.
This is the time for us to show more love to each other.