After tasking the general public to submit names they think can best represent the Ghanaian movie industry, the National Film Authority has formed a committee to finally select from the entries one for the industry.
Members of the Brand Name Committee are Prof. Audrey Gadzekpo (Associate Professor – Department of Comms Studies, University of Ghana), Mr. Kwabena Agyekum (Executive Director of Chartered Institute of Marketing Ghana), Abeiku Sagoe (Actor), Ms. Laurene Maana Abdallah (filmmaker) and Kofi Kyei (filmmaker).
Others are Nakeeyat (poet), Frank Fiifi Gharbin (film director), and Leonard Atawugeh Kubaloe (storyteller).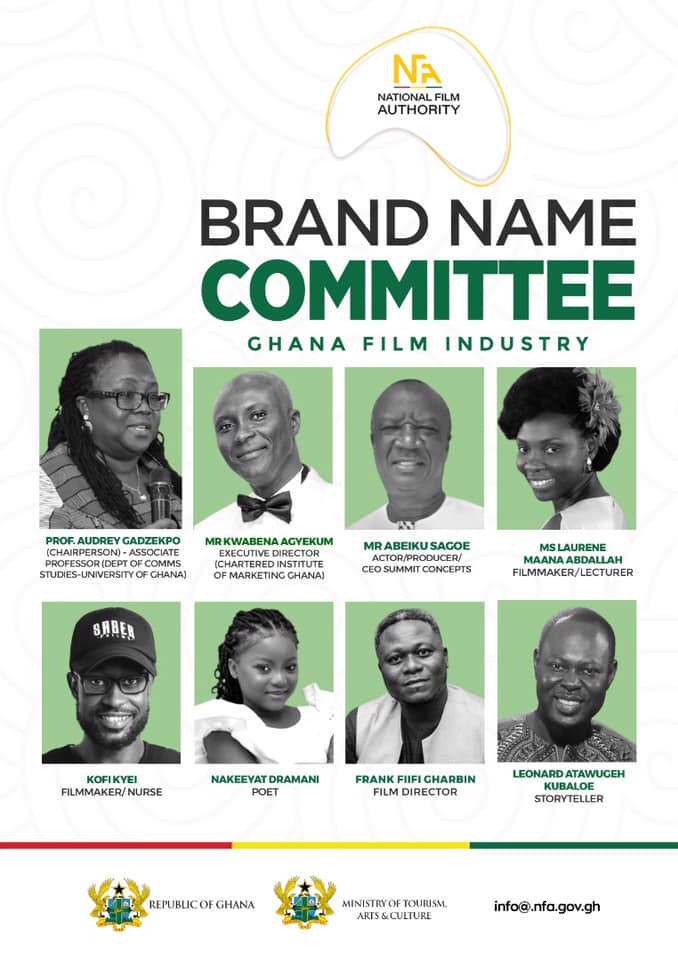 The authority made his announcement on their Facebook page. They wrote:
"Globally, the film production, promotion, and distribution landscape keeps changing rapidly. There is a proliferation of content from all over the world competing for attention. Having an IDENTITY as an industry is very important to ensure that the efforts being put into building solid structures will have a cutting edge advantage.
With this in perspective, the NFA asked the general public to submit names they believe can best represent the Ghana Film Industry.
Over 400 submissions were received by the NFA.
We are privileged to have the committee committed to narrowing down on the submitted names and eventually select a brand name to help promote the Ghana Film Industry."
In November 2020, when the announcement was made to solicit people's ideas in this regard, some of the names came up in social media conversations were:
1. CineKrom
2. GhanaCine
3. Anansekrom
4. CineGold
5. Adinkra Films
6. Blackstar Films
7. Ghallyfilm
8. Ananseman
9. Ghana Heritage Movies
10. CineFie
This is not the first time this debate has come up. The last time it happened was in 2018 when Richard Boateng, the President of the Film Directors Guild of Ghana (FDGG) announced that it would be named Gollywood.
He met opposition because other industry folk said he did not consult them.
In 2013, veteran actor David Dontoh, now Chairman of the National Film Authority told Kwame Dadzie in an interview on Koforidua-based Vision FM that he would suggest the Ghanaian movie industry was named 'Nyamedua' (God's tree or the living tree).
Arts writer Osarfo Anthony also suggested 'Anansekrom' seven (7) years ago.
–
By: ghanaweekend.com