Ghana's dancehall king, Charles Nii Armah Mensah known in showbiz as Shatta Wale has been locked in a serious social media fight with Nigerian artiste Damini Ebunoluwa Ogulu, popularly called Burna Boy.
The two who used to be friends in the past have been throwing punches at each other on social media following a statement that Shatta Wale made during his Freedom Concert at the Accra Sports Stadium.
The genesis of the feud
On Saturday, 25th December 2021, Shatta Wale held his Freedom Concert at the Accra Sports Stadium which has 40,000 capacity.
In the course of the show, he paused and addressed his fans.
"They told me that I won't be able to fill my stadium. I don't look up to any stupid Nigeria artiste I look up to my fans. Fuck Nigeria," he said.
He added that most Nigerian musicians had their break, through Ghana; they always had to come to Ghana to get validation for their music. Shatta Wale noted that because of this, he does not understand why Ghanaians would create the impression that Nigerian musicians are better than Ghanaian musicians.
The 'Gringo' hitmaker added that Nigerians need to reciprocate the love Ghanaians give them by playing more Ghanaian songs and billing more Ghanaians musicians on their shows in Nigeria.
Prior to the show, there were conversations about Wizkid filling London's 20,000 capacity O2 Arena and the possibility of a Ghanaian artiste doing the same.
Some people even wondered if Shatta Wale could fill the Accra Sports stadium for his concert.
His comment, therefore, came after realising the stadium was packed to the gills.
The broader conversation
This comment generated a wider conversation about how Nigerians have closed their music borders but are trying hard to penetrate other music markets across the world.
While some believe Shatta Wale's cause was worthwhile and that it is high time Ghana regulated its music space, others are of the opinion that Shatta Wale was on an attention-seeking mission as usual.
Some argued that Ghanaians have developed so much love for Nigerian music to the extent that Nigerian songs have inundated Ghanaian pubs, clubs, hotels, radio, and television stations.
According to them, just as the Nigerian government has instituted a policy for its media to roll out 80% local content, Ghanaians have to do that too.
Ghanaian dance hall artiste Stonebwoy added his voice to the subject. He highlighted the fact that Nigerians and Ghanaians are one people, and also mentioned the need for Nigerians to show Ghanaians an equal level of love Ghanaians show them in terms of music.
My thoughts.. 💭 pic.twitter.com/yYPqiWD4YS

— 1GAD (@stonebwoy) December 30, 2021
Reaction from Nigerians
Shatta Wale's statement has received an objection from some Ghanaians. They believe Ghanaians and Nigerians have a good relationship that should not be ruined.
They cited how Wizkid put Ghana's King Promise on his stage a few months ago when he performed at the O2 Arena in London and how Burna Boy gave budding Ghanaian artiste Black Sherif some shine by featuring on his 'Second Sermon' remix and also billing him on his show in Nigeria.
Burna Boy and Wizkid, have on several occasions professed their love for Ghanaians and have told the world why they own houses in Ghana.
But some Nigerians could not keep calm on this issue. They took to social media and traditional media to fire at Shatta Wale.
In the midst of the insults, Wizkid, while performing at the Wildaland Festival on 27th December 2021 at the Shai Forest Reserve in Ghana preached love; he said he does consider who to love based on colour, nationality, or creed.
How did Burna Boy come into the equation?
Unhappy with Shatta Wale's comments, Burna Boy took to his Instagram Story to share his opinion on the matter. He said Ghanaians play songs from the United Kingdom, United States of America, and South Africa, so he did not understand why Ghanaians should be angry about Nigerian songs being played in Ghana.
He also dared Shatta Wale to have a fight with him and solve the issue later.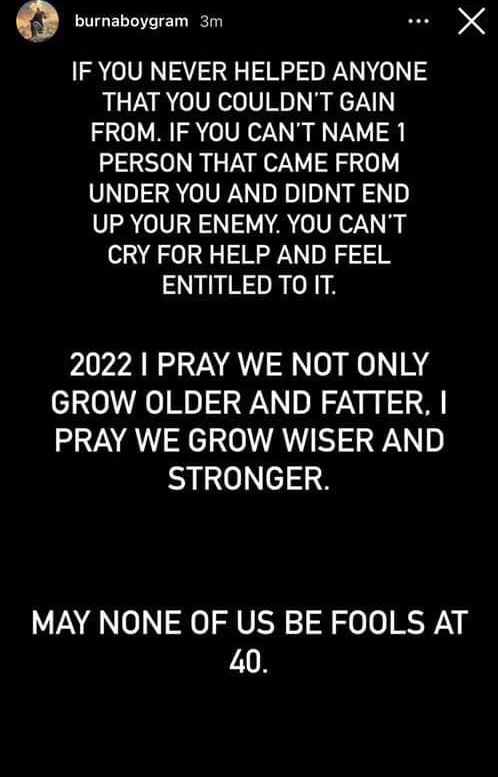 This goaded Shatta Wale to also respond that he was ready for the 'African Giant.' While he thought Burna Boy wanted a lyrical bout with him, Burna replied that he would actually want to see meet the Ghanaian dance hall giant in the boxing ring.
Oh @burnaboy says he want a 1 on 1 ..ok let's do this Accra sports stadium ..I just call shots💥💥…If you be man !!!! Don't come sing your song let's do freestyle !!!

Ghana – Nigeria …
Am fucken ready for this ..

— SHATTA WALE (@shattawalegh) January 1, 2022
The fight got dirty 
The two would not rest as they went at each other on social media with insults and threats.
They made allegations of rape, roping in some ladies.
Don't worry when the girls start talking about the byforce sex,you will look for me as a witness and I will make sure you go "Nigeria Ankaful" by all means😜 @burnaboy

Those labels will be memories for you soon!!!

— SHATTA WALE (@shattawalegh) January 2, 2022
Shatta Wale even showed videos of when he was friends with Burna Boy, telling people about how broke and poorly dressed Burna Boy was when they first met.
See jon ,from head to toe ,I didn't like the dress but you insisted .. like my garden boy ..😂 pic.twitter.com/QA501gYIx3

— SHATTA WALE (@shattawalegh) January 1, 2022
What broke the camel's back was the rape allegations
Burna Boy in one of his posts alleged that Shatta Wale tried to rape his girlfriend when he brought her to Ghana.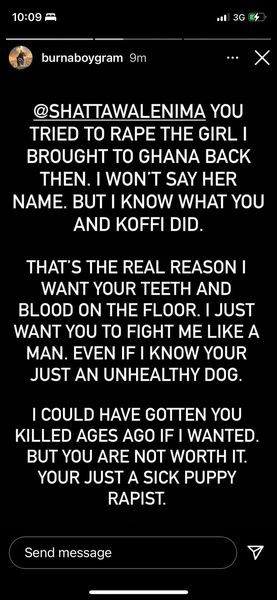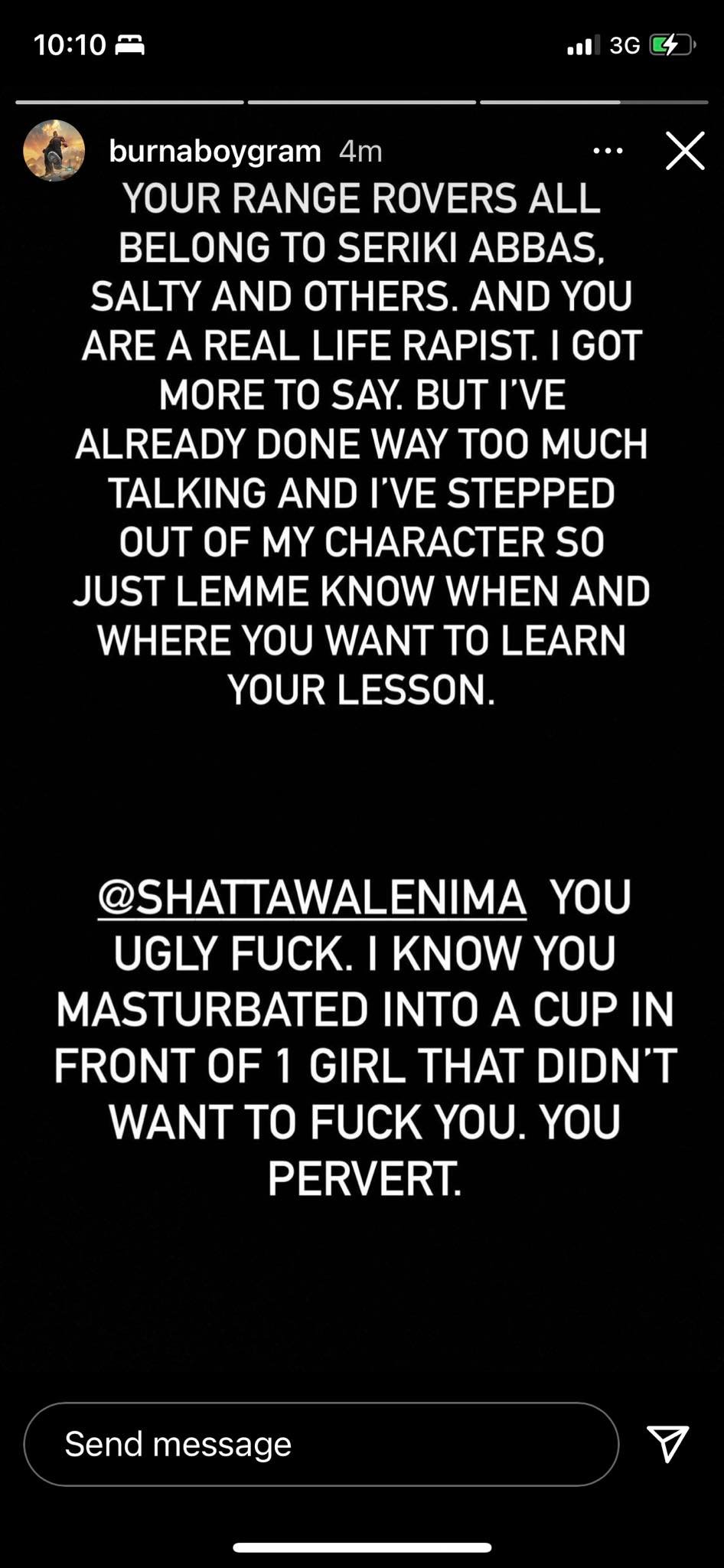 Shatta Wale replying to Burna Boy's claim tweeted that Burna Boy is also a rapist, a reason he [Shatta Wale] also raped his girlfriend.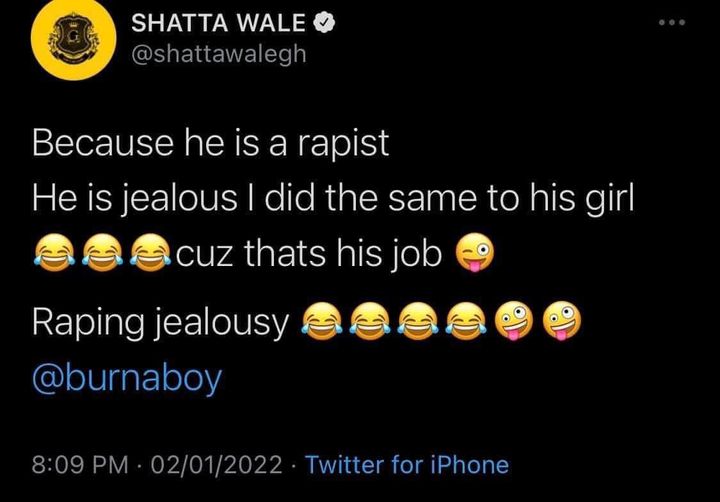 That comment got actress Lydia Forson in the noose. Lydia, who is known to have strong feminist ideologies, has received a lot of flak from people because she did not call out Shatta Wale for his distasteful tweet but rather decided to call and advise him.
Some think it was hypocritical on the part of Lydia to have done that.
What next after the noise?
The conversation of protecting the Ghanaian music market from too much foreign music has been had many times on Ghanaian media platforms.
Some have suggested that apart from getting the Broadcasting Law passed to make room for the enforcement of the 70% local content policy, Ghanaian musicians should also deploy creative strategies of promoting their works in other countries.
They are of the opinion that if Ghanaian musicians invest more money, time, and creativity into the songs, it will be difficult for any foreign music to give them competition in their own country.
It is expected that this conversation does not die without the Ghanaian musician learning any lessons about what to do to get prominence in other foreign music markets.
–
By: Kwame Dadzie | Ghana Weekend