If anybody told me that, there would be a time when mainstream media would choose discussion of a book over political issues over a week, especially on their morning shows, I would have argued against it. Fact.
Now, it has been one week since the famous film personality—Yvonne Nelson—launched her memoir "I am not Yvonne Nelson". Can anyone tell me which relevant media in our mother land didn't take a bite of the discussion/conversation about the book? Your answer, I am sure, would not be different from mine.
Well…in all the brouhaha, guess what, I made a very interesting observation: 
"Why hasn't any media chosen to (rather than to discuss how someone has or can be affected (whichever way) by a narrative that gives account of specific events in the author's life (what a memoir is!), chosen to constitute a deserving panel to review the book—its content, style, literary impact, production etc?"
It was then the wave the book came with led me into the corridors of genuine concerns. Concerns that opened a number of questions including 
"Apart from Citi 97.3 FM (that I am aware of) why can't traditional media outfits (with impact on society) not deliberately create content for literary reviews, conversations, reading etc, besides the usual campaign or call for our society to be a reading one?".
At least, if not at all this is what "I AM NOT YVONNE NELSON" has come to expose—in light of the fact that all the reviews done so far regarding the book  are from showbiz point of view, not literarily.
Yes, I agree. It may not necessarily fetch money immediately (maybe later) if our traditional media should invest in creating such literary content but it surely shall cause a very positive impact. Impact which the media outfit shall be proud of in the immediate future if not now.
Anyway, while we wait for this heaven to visit mother earth, fellows, I would say without mincing words that it is indeed just FAIR to say "ayekoooo!" to our unaware literary advocate, Yvonne (confused which surname to use after a successful and interesting read of her book) for the outstanding energy she brings to the literary revolution, having fetched the result not even national agencies and literary organizations/associations have been successful in delivering:
—to cause national discussion around book for relatively a long period; 
—to cause indiscernible crave for citizens to read (however short or long the time) and most importantly 
—reminding us all of the potency of a book; a fact that has been from the beginning of times and shall be even beyond the end of times.
Yes, "I am not Yvonne Nelson" is an incredible boost to literary activism in Ghana. All objective persons cannot deny this.
What more regarding the book? My dearest reader I was flabbergasted to find out that all the artists behind the book (content creation, design, editing, proofreading, publishing on Amazon and other online etc) are all indigenous personalities (Ghanaians). Is this not not interesting to note too?
Of course it is! And thus, one cannot be wrong at all to say this book is an asset to the Ghanaian 'literarydom' : in fact, it tells more than the story of a beautiful damsel with the bravery of a lion—bold to defy the norm to even tell her 'must-be-hidden-mess' towards shaping the society; it informs all and sundry of the power of the Ghanaian artists when it comes to causing a meaningful stir even at the global stage. "I AM NOT YVONNE NELSON " was among the best Amazon sellers, this is the evidence.
As it stands, "I AM NOT YVONNE NELSON" has proven to be a literary trailblazer, at least in the time of a new generation and deserves the necessary commendation. Yvonne, take your two!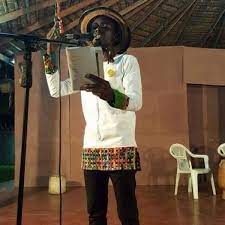 Anyway, whatever anyone else chooses to think about the book  I pray he or she chooses to reassess the thought to know whether it pleases the objective lens. 
As it has usually been, good books provoke unending attention and conversations and so, we can't expect any seeming end to the discussions and conversations the book brings to the table. 
However, indulge me to draw the curtain here (at least for now) and yet reminding us all that writing too is creative art  (FINE ART) just as music & film are. So let this hour help us to stop orphaning it in its rightful home (ministry of creative arts….) hoping its adopted home (ministry of education) must see to its growth.
Congratulations Yvonne X for your literary feat. Walk with your head up and chest out. Much respect and love.
Nii Okaikoi Okaitei (Oswald)
Poet/playwright/literary activist
Executive Director, Read Ghana Read Consult