Sometimes, one needs to forget about being blacklisted or hated by people at the top echelon of society to tell the painful truth!
I know that Kwasi Aboagye will not be happy with this piece but of course, I don't intend to let him dance 'zanku' with it.
Kwasi Aboagye, the host of Entertainment Review on Peace FM is a fine gentleman. He is very intelligent and will always be credited as one of the pioneers of entertainment discussion programmes on radio and television.
Of course, there is no gainsaying the impact his show has had on the entertainment industry in the past years.
About seven years ago, when I hosted 'Arts and People' on Vision FM in Koforidua, he visited one Sunday and said on the show "lions do not eat lions" so people in the showbiz industry should not go hard at each other.
At that time, I thought it was a good counsel until I discovered for myself that it wasn't a sacrosanct philosophy after all. Sometimes, some lions must roar, or eat up other lions for sanity to prevail in the jungle.
In fact, when I heard him on Sammy Flex's show on Zylofon FM this morning, I was happy. I was more elated when Sammy asked him to assess the performance of entertainment shows in Ghana at present. But I knew he would throw a bomb! And hurray, he did not disappoint.
What did he really say on Sammy Flex's show?
When asked about his assessment of entertainment discussion programmes on radio and television he said there has been progress in the proliferation of entertainment discussion programmes on radio and television, the quality of analysis has waned.
"In terms of the numbers I think it is impressive but when it comes to the critique of the work, the content, looking at the discussion, the way it should go, and how we should raise the bar, I don't think we are making any progress," he said.
Kwasi, also a morning show host at Neat FM said most of the entertainment show presenters do not read wide to keep abreast of issues.
He added that the amount of work and research he puts into preparing for his political morning show is more than that of his entertainment show.
What did he say wrong?
It is true that entertainment analysis shows in Ghana have to work harder as far as content and presentation are concerned. It is true that most entertainment pundits are clueless about the things they talk about on these shows.
It is also true that some entertainment show hosts are not smart. But we should not lose sight of the fact that the dilution of the content of the bigger entertainment shows is a major factor.
This is why I detest the fact that this statement came from Kwasi Aboagye.
Make no mistake, I am not making an ad-hominem argument here. I am just trying to point out how Kwasi portrayed himself as though he was the only one doing the right thing. Meanwhile, he's the biggest culprit – in fact, the major cause.
I used to listen to DJ Abio's Total Entertainment 205 when it started in 2003. It was hot at that time because it was the only entertainment review show on the radio. All other entertainment shows were either chart shows or titbits segments on other shows. In fact, since the time Kwasi Aboagye appeared on Abio's show till he started Entertainment Review on Peace FM, I have been an ardent listener. I even used to send in my messages and wrote critiques and articles about the show in Graphic Showbiz's 'Letters Column'.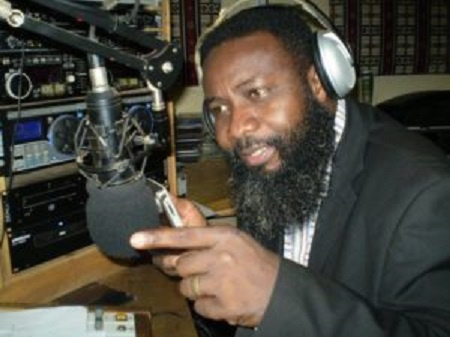 Kwasi was on top of his game in those days. His topics were deep and relevant to the growth of the industry, he probed and asked incisive questions.
The same cannot be said of the man most of us looked up to about 15 years ago. Kwasi Solomon has changed!
The content of his show has been influenced by wishy-washy uninspiring trends. He has lost it.
This is why I find it insulting and hypocritical on his part to have made that comment on Zylofon FM. At least he should have blamed himself as the major cause of the dip in the quality of content on entertainment discussion shows. Yes, because he is one of the key pioneers of the game. His show is huge and a lot of entertainment show hosts in Ghana look up to him. They copy his style, too.
Does he do research for his entertainment shows?
Kwasi in his interview on Zylofon, also added that now he can just wake up and head straight to the studio to host his entertainment show. But when he is going to host his political morning show on Neat FM, he trudges through documents and a lot of literature.
This is not because he is well-versed in entertainment and that it comes naturally to him; my senior brother has just become 'lazy' for entertainment. If he were to tackle very 'serious' issues, he would have read wider as he does for his morning show.
There a lot of fallow areas in entertainment that are still untilled by those of us in the game who call ourselves entertainment presenters/pundits and producers. We have fallen for the 'cheap' side – the breast and 'dross' stories!
The same Kwasi Aboagye waxing saintly today would go on his show to ask Mzbel to tell the colour of 'dross' she is wearing. You do this on a show you claim is serious? When you go about pressing people's breasts on your show, you come back to say quality has gone down? Na who cause am?
Recently, on the day Entertainment Review was celebrating its anniversary, I heard Ola Michael (a pundit on the show and host of Neat FM entertainment show) say that he was advised by Kwasi to drift from the critical issues of entertainment and rather go for the light stories. So don't be surprised at the content you listen to on Ola's show. It was borne out of counsel by his boss.
Anything wrong with 'light' content in entertainment programming?
One of the biggest challenges of entertainment journalism is trying to look intelligent and not boring at the same time.
When you treat very critical entertainment issues, you won't have the numbers. They will say you are boring. It doesn't matter how relevant the topic is. When you pick the very light topics too, you'll be described as 'not-serious', or unintelligent.
So for the twelve-odd years that I have been on this turf as an entertainment journalist, I have endeavored (although very difficult) to do a hybrid of the two.
People have different concepts for their shows so sometimes it is very slippery to criticize what they do except when they commit palpable blunders.
In the wake of this, Kwasi Aboagye can decide to change his concept and tackle stories that will give him the numbers; and not necessarily those that will help solve the industry's problems. He is allowed to do that. But if he wants to toe that line (in fact he's already there), he should keep quiet and do it. He should admit that he has backslid and not hold himself as the beacon of 'quality entertainment review' on the radio.
Dear Kwasi Aboagye, your assertions are true but you lack the moral right to talk about them. You have lowered the bar.
But no shaking (in Doctor Cann's voice). We're all learning from you. I'm your number one student.
Henceforth, when I wake up from bed, I will head straight to the studio to host my entertainment shows without doing any research because after all, it's all about breasts and 'botos'.
–
By: Kwame Dadzie | ghanaweekend.com
Editor's Note: The writer is an entertainment journalist with Citi FM, Citi TV, and citinewsroom.com).