Since the nomination list for the 64th Annual Grammy Awards was released, a lot of congratulatory messages have poured in for artistes who have earned various spots in the awards.
In Ghana, a lot of stories have been done to celebrate Rocky Dawuni's nomination in the Grammy Awards for the second time.
His 'Voice of Bunbon Vol. 1' album has earned a nomination in the Best Global Music Album category.
The Ghanaian reggae artiste has been nominated alongside albums by Wizkid, Daniel Ho & Friends, Angelique Kidjo, Femi Anikulapo-Kuti & Made Kuti.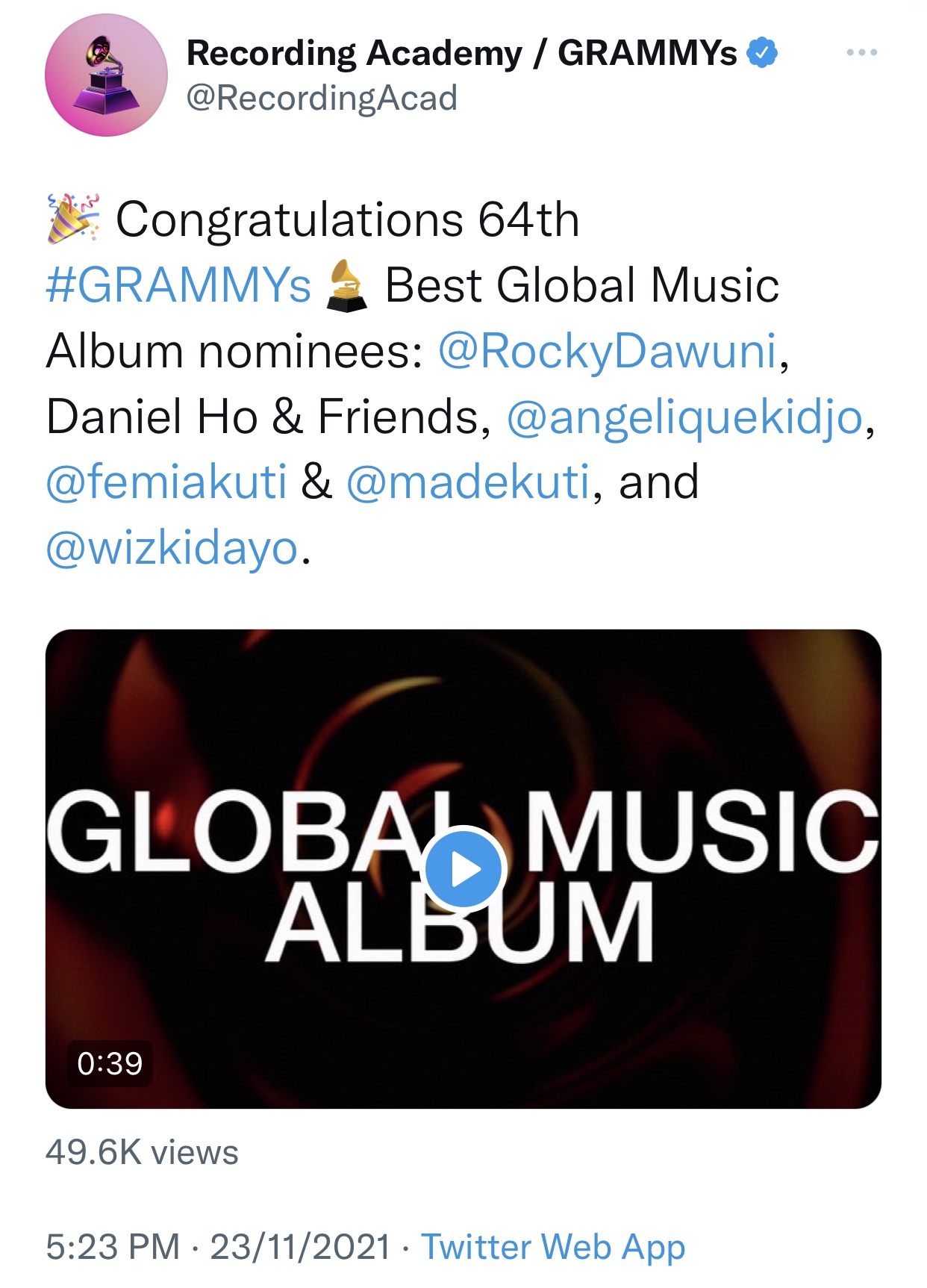 His first work that got a nomination was 'Branches of The Same Tree' which made it to the Best Reggae Album in 2015.
I have seen other stories on some websites reporting that Stonebwoy has also gotten three nominations. In fact, I have seen some of Stonebwoy's team members share these stories, too.
A lot of Ghanaians are looking forward to seeing Stonebwoy grab a Grammy nomination but he has not been nominated this year (either directly or indirectly).
Even though some Grammy Awards categories acknowledge featured artistes as nominees, the Reggae Album category does not.
The category description says the award is "for albums containing at least 51% playing time of new reggae recordings." It does not mention featured artistes.
This is unlike categories like the Album of the Year which states that award goes to the "artist(s) and to featured artist(s), songwriter(s) of new material, producer(s), recording engineer(s), mixer(s) and mastering engineer(s)."
Those who are peddling information that Stonebwoy has been nominated by featuring on Grammy-nominated albums like 'Pamoja' by Etana, 'Live N Livin' by Sean Paul, and 'Royal' by Jesse Royal got it wrong. It is pure misinformation.
He can, however, apply for a participation certificate for his contribution to the songs if they win. That wouldn't mean he got nominated or won. It's a certificate to acknowledge his input into the award-winning Grammy body of work.
We are ready to celebrate such feats by our artistes but we should not, for propaganda purposes, make claims that are not factual. A lot of such deception has gone on in the past with regards to some Ghanaian artistes earning nominations in the GrammyAwards, and it is about time we set the records straight.
Stonebwoy is doing great with his music career and we celebrate him for that. He is currently on his 'Anloga Junction UK Tour', projecting his brand and bringing glory to the Ghanaian music industry.
The Bhimnation President really has a Grammy potential but we can't tweak facts to hype our own.
This is no witch-hunting; this is no hatred. This is pure love to deliver our brother from humiliation.
–
By: Kwame Dadzie | Ghana Weekend