"…..You told us that a man has to make his own way, look after himself and mind his own business…"
The above is an extract from his role as Eric in English dramatist J. B. Priestley's "An Inspector Calls" staged at the School of Performing Arts, University of Ghana Legon in 2003.
That was the last time George Quaye stepped up on stage in that thrilling staff Production directed by Professor Martin Owusu. It may be pertinent to note that aside Ekow Blankson who was a graduate student at the time, George was the only undergrad in a production that starred the very best of lecturers from the School.
Nearly 23 years on, after making a strong name with an even stronger influence in Ghana's  Events, PR, Communications and Mass Media  space, George Quaye returns to the stage as lead performer and director in the Ghanaian adaptation of British Writer, Ray Cooney's "Run For Your Wife!"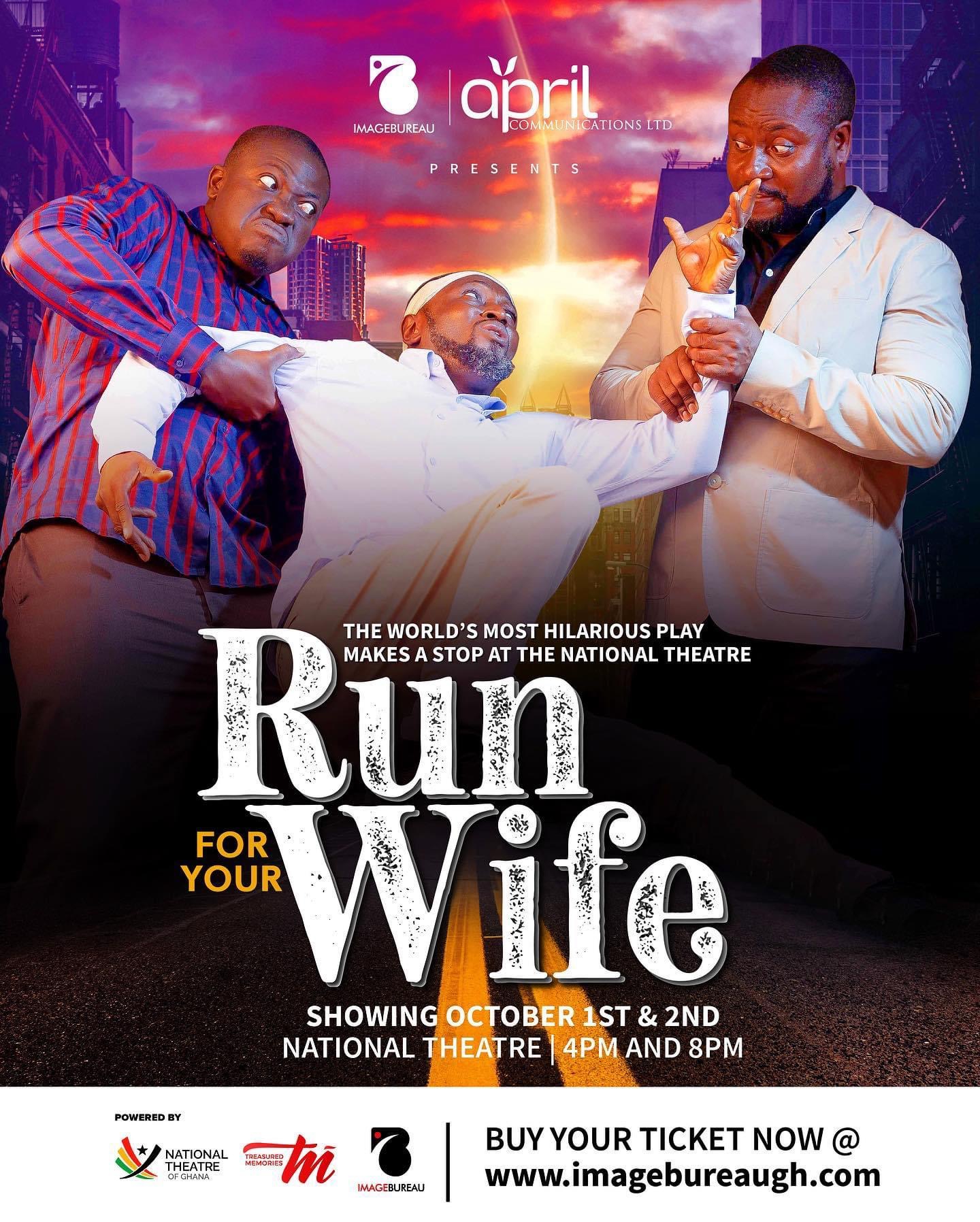 The story concerns Adjei Sowah, an Accra based taxi driver with two wives, two lives and a very precisely planned schedule for juggling them both so they neither suspect he's a bigamist nor discover each other.
Wife number one, Mary lives with him in Labone, while wife number two, Naa Shome, also lives with him 5 minutes away in East Cantonments.
Trouble brews when Mr Sowah gets involved in a mugging incident and ends up in hospital, where both of his addresses surface, causing both the Labone and Cantonments police to investigate the case.
His careful schedule is thrown out of gear, he becomes hopelessly entangled in his attempts to explain himself to his two wives and two suspicious police officers, with help from his lazy lay about neighbour from Labone, Stanley Gardner.
Premised on a rather solid theme expressed in the words of Sir Walter Scott, "Oh what a tangled web we weave, when first, we practice to deceive",  the play attempts to drub home the need for honesty in all endeavours.
Run for your wife teases out the terrible complications that come up when one tells a lie and needs another lie to cover it up.
It teaches us all to stay true in all matters.
Originally written by British playwright Ray Cooney, RFYW, also tagged as Cooney's biggest success, ran for nine years in London's West End and is still on record as its longest-running comedy.
In 1999, Miguela Gonzalez, who once worked with the BBC introduced the play to Ghanaian Theatre lovers when she partnered David Dontoh's Kozi-Kozi theatre company to adapt it for Ghana.
George Quaye would later on introduce it to the University of Ghana when he Produced and Directed it for his final year directing project at the School of performing arts in 2004.
This is the first time, George would be acting as Adjei Sowah, a role/character he has directed no less than 4 times in Run for your wife.
Would he be able to deliver it?
Let's score after seeing it live at the National Theatre on 1st and 2nd October. Each day will see two outings at 4pm and 8pm.
Also performing live are talented actresses Naa Ashorkor and Sitsofe Tsikor alongside Fiifi Coleman, Francis Osei Bonsu, Roland Adom, Andrew Adote Tandoh of Roverman Productions and for the very first time in a stage play, the man tagged as Ghana's boldest, most informed and most respected entertainment Pundit and critic, Arnold Asamoah Baidoo.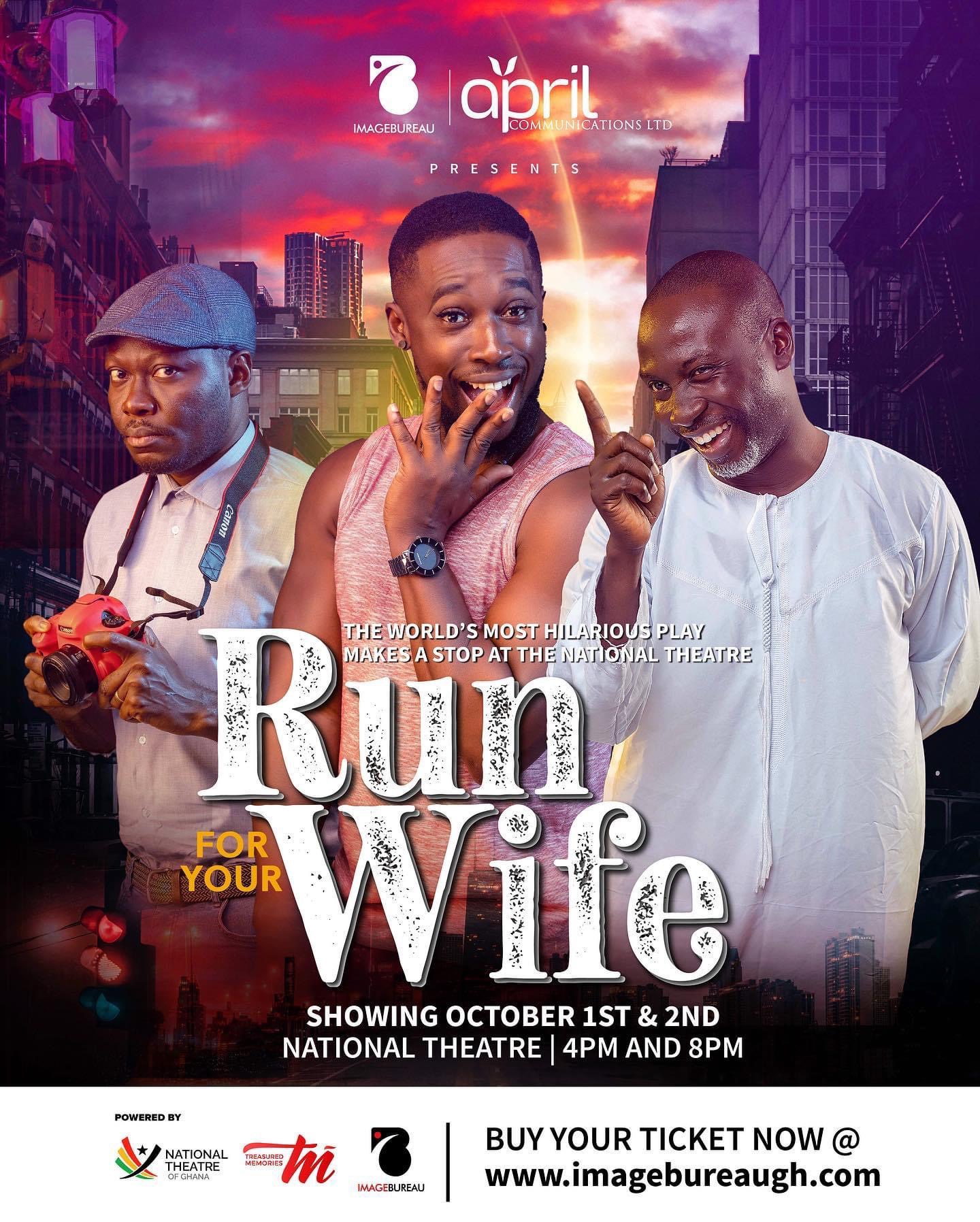 Run For Your Wife is an Imagebureau production in partnership with Naa Ashorkor's April Communications Limited.