What signs are Ghanaian celebrities waiting to see before jumping on the wave as other countries have done for the COVID-19 pandemic?
What do they do if they are not recording songs to insult each other and downplay each other's work?
All jokes aside, the world is faced with the deadly coronavirus which has already affected over 115,000 people worldwide since the first case was recorded in December 2019 in Wuhan, China and continues to spread to other parts of the world. So far, Nigeria has recorded two cases, Burkina Faso recorded 2, Togo recorded one, Côte d'Ivoire also recorded one. (Please read the updated number on citinewsroom.com)
No vaccine has been arrived at as at now and what are our celebrities doing about it?
No, it is not your duty to research and come up with a solution, of course, that is the duty of the health ministry but if you do songs for kids as little as four to sing along and want to be like you, why not use the same medium to educate them?
What is the novel coronavirus?
The novel disease also called COVID-19 is caused by a member of the coronavirus family but this is the first of its kind, hence the 'novel'.
Coronaviruses are a large family of viruses that cause illness ranging from the common cold to more severe diseases such as Middle East Respiratory Syndrome (MERS-CoV) and Severe Acute Respiratory Syndrome (SARS-CoV).
Coronaviruses are zoonotic which means they are transmitted between animals and people.
Common signs of infection include respiratory symptoms, fever, cough, shortness of breath and breathing difficulties. The virus can also cause pneumonia in severe cases and even organ failure.
The novel coronavirus is airborne and symptoms begin to manifest after 14 days. An infected person could transmit the disease before symptoms begin to manifest.
The virus is spread mainly through close contact of 6 feet with the infected through respiratory droplets, coughs or sneezes.
Let's talk a little about how influential our artistes are:
Shatta Berry at the age of six won the hearts of admirers and Dancehall act, Shatta Wale because she could sing his songs word for word and garnish it with a whole performance that makes one enjoy watching her.
Rapper, Awal Mohammed the second runner up of TV3 Talented Kidz in 2010 at the age of 12 made mesmerized a large number of Ghanaians with his rap skills especially because he went at the pace recognized with Sarkodie, his mentor. Although Emmanuel Owusu Asiedu came first and Awal was the third, he was everyone's favourite.
The phone accessories vendor I pass by every morning at Kwame Nkrumah Circle wears Shatta Wale's kind of hairstyle. I see a lot of others who wear branded shirts with the reign logo which is associated with the Shatta Movement brand- "he has a loyal fanbase. If he decides to be president, lots of youth will vote for him" one common comment people make about Shatta Wale.
Some time in 2015, Pappy Kojo and Joey B changed the way students in the tertiary and Senior High School dressed and posed for pictures. There was a fashion style tagged Pappy Kojo dressing- ripped jeans or faded jeans paired with oversized top especially after the release of Realer No and Wave in 2014.
As soon as that vibe went down, last year, Pappy showed up on red carpets in crocs and it became a trend.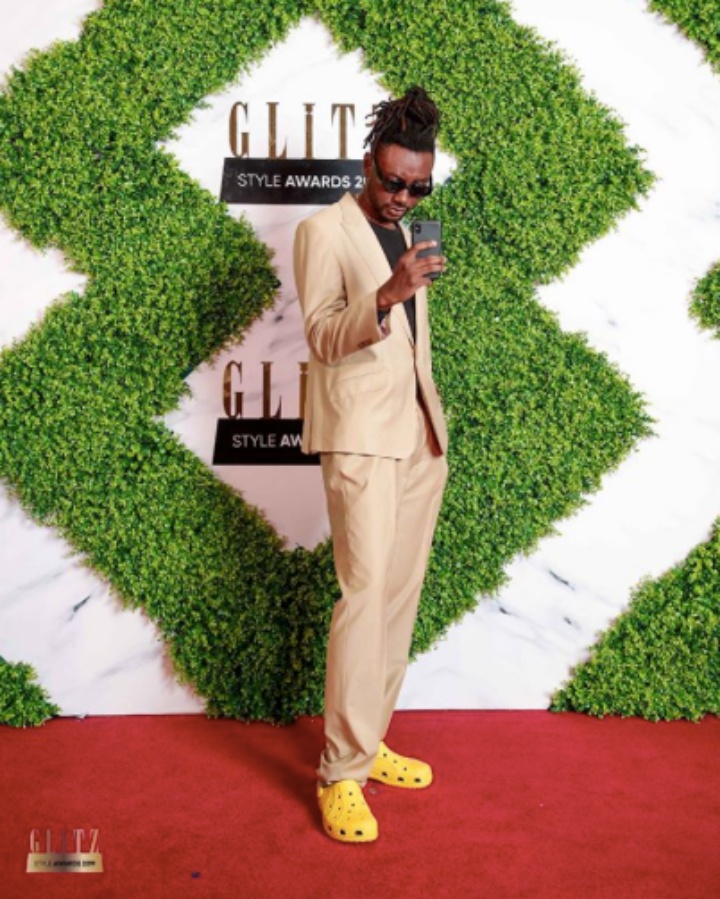 How about some trends our artistes have hopped on?
Rashida trended on social media over a video in which she insulted her boyfriend, Kushman. While running her mouth, she used the word "malafaka" and some artistes jumped on the term- Kofi Kinaata has a song titled Malafaka.
Guru is one artiste that would usually ride on trending issues to make hit songs. He has a couple of them to his name. An example is "Are you Aware" which was a jama song but a song of the moment after a lady did it and uploaded it onto social media.
Article Wan just released a song titled 'Nana Ama' after a young man, Sammy and his broken heart series with his sweetheart, nana Ama made it to social media.
It is an undeniable fact that all these popular figures and other unmentioned are good at setting trends and making an impact.
What are Ghanaian celebrities saying about the novel coronavirus?
I've seen a tweet in which Yvonne Nelson complained about Ghana not being prepared for the disease – February 28: "Ghana!!! What a joke! I've checked more than 20 pharmacies today for face masks and you won't believe one top pharmacy on the east Legon main road brought out a construction mask! Charley we aren't ready as a country at all. "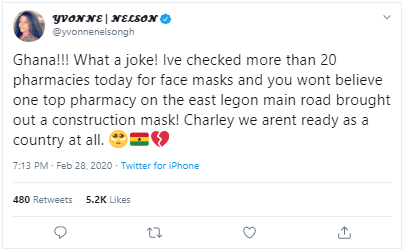 Shatta Wale said in a tweet on March 5: "The people calling me for shows in china pls and pls "I AM BOOKED". Thank you"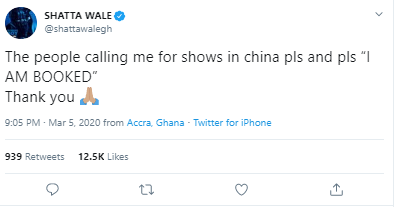 Kuami Eugene is quoted by pulse ghana.com to have said: "That would be after they have a 100 percent confirmation that the virus is over," to the question if he'll perform in China for a huge sum of money. He added that it's not just about money and that he needs to be alive to do more.
What are other artistes doing?
Per Quartz report, as of March 3, more than 65 songs uploaded to the music app, Spotify, includes "coronavirus" in the title and about seven others are with "covid19" or "covid-19" in the title.
The most popular of them is "La Cumbia Del Coronavirus" by Mister Cumbia, which nearly 100,000 people have streamed so far. Mister Cumbia's song implores listeners to wash their hands and avoid friends if they have the virus.
The Argentinian comedian Ramses Hatem told Quartz that he was nervous about writing a song about coronavirus because so many have died, but recorded one anyway. His song, "cORoNAviRUs," has about 1,600 streams. It uses coronavirus as an analogy for toxicity in relationships. He said he recorded and published the song quickly so that it might do well on social networks. Hatem said he relies on streaming revenue from YouTube and Spotify as a secondary income.
It would be unfair to say Ghanaian celebrities have not done songs or used their status to effect positive change and action.
For road safety and prevention of accidents, about eight years ago, Obour did 'Oko Aba'.
We have lots of songs done for political parties as well as ones to propagate peace before, during and after elections.
In 2011, Lynx Entertainment featured some stars including Tinny, VIP, Eazzy, Richie,Edem, Zigi and others on the 'Yen Araa Asaase Ni' which is a timeless song that comes in handy during elections and even on independence celebrations – I saw it played on television on 6th March as we marked 63 years last week in Kumasi.
Shatta Wale released 'Message of Sympathy' as his way of sending condolences to June 3 victims' family (Ghanaians who lost their lives to a twin disaster – flood and fire in Circle, 2015)
So why is it different this time?
Why is it different in this case? Are we waiting to be hit with the disease before we start educating ourselves?
Are your social media pages for just posting your new clothes, food and 'baecations'?
Would it cost too much to record a song that educates the kids who have made you their idols? Is it too demanding? You already do songs which are easy sing-alongs. Or it has to be all about a woman's body and the susupons in the industry and how you walked from Tulaku to Kumasi on foot as an underground artiste?
Let's say it costs too much to record a song. How about you go to the schools and speak to these kids who love and adore you? You'll still get the attention you crave. Just go to the schools, talk to them, give them sanitizers and take lots of pictures. Your PR team will send them to our emails and we'll do the stories that'll still speak well of your brands.
The energy most of you used to fight the Food and Drugs Authority on the ban on celebrity alcohol endorsements should be visited on the novel coronavirus as well.
Don't just make noise about being influential. Make use of it now.
–
By: Hajia Lamy Gates | ghanaweekend.com