Now the day is over…
Today was packed with activities and some good news and hope- filled activities.
Per the media, 110 markets in Upper West Region were disinfected as one of the measures to curb the spread of the coronavirus.
Before the lockdown, other markets in Greater Accra were disinfected and this is just the continuation.
More videos of brutality keeps pouring in but the army say they're not real. According to them, only one of the videos is true and the said soldier has been called to order – They'll deal with him.
Addressing the nation today, Brigadier General Abraham Yeboah Nsiah said "Our soldiers are professionals. They don't brutalize" adding that Ghanaians believe in morality and that God hates lies so people should stop peddling lies to tarnish the image of the army or taskforce .
On the issue of compliance, he noted, "My expectation is that by tomorrow morning we'll have less vehicles and human beings on the roads".
It looks like the taskforce is doing too much. The team that were in Madina yesterday were at post today too, blocking the road with their armored cars and causing fear and panic. And there are the ones who make people alight from their vehicles, ask the driver to go back while the 'passengers' wait for hours for another vehicle to continue their journey. I think that should be really frustrating. Listening to these passengers complain.
However, there was one trending video of a soldier who instead of brutalizing or flexing his muscle took his time to educate the passengers on why they should not be in town at that moment. He has been trending on social media with everyone applauding and saluting him for his humanitarian act.
Our hero for day 3 is Lt. Col. Michael Kwame Afreh Mfum. Ghana is proud of you.
Except, I didn't see a mask on his face.  Most of them are so concerned with turning passengers away and punishing people flouting the rules but they are not protected themselves. No one is immune to the disease. Protect yourselves while protecting us please. This applies to the journalists covering the lockdown. Some of them have their masks tied around their necks while talking to people who are furious and when people talk in that state, I am sure you know they spit a lot. Not intentionally I mean.
Please use the masks. 
Moving on, the Kayayei have a good news at last. The minister for Gender, Cynthia Morrison at the same address to the nation today said government will provide shelter and food for 15,000 kayayei.
"We're going to give them food. We're going to give them water twice a day"
I'm hoping it's not an audio promise.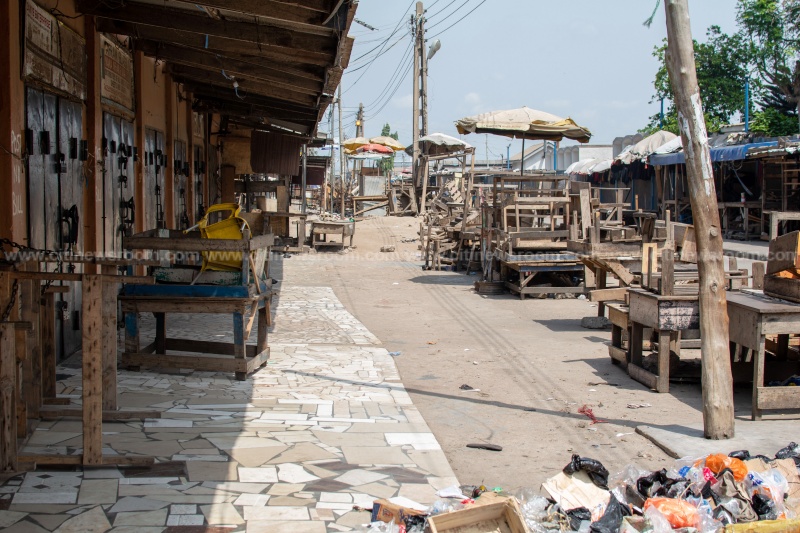 Another good news for the Kayayei is that a group made up of  Senyo Hosi, Sammi Awuku, Bibi Bright, and some celebrities have put it upon themselves to feed Kayayeis and the deprived the whole 14 day period. While watching citinewsroom this evening, I saw the team in the Agbogbloshie area with packs of food and water for the Kayayei who also said although they heard the minister for Gender will come to their aid, no one has come to speak to them to that effect.
Another good thing that happened today is that, the Immigration service and the health service are tracing contacts and running tests in some hotspots like the Ayawaso constituency and the rest.
And then, the Northern Regional Minister has put a ban on prostitution in the region to prevent the spread of the virus.
"Fear God and stop prostitution" he said
About us, we're still bored. Everyone is now on TikTok even people who use these phones that freeze every second. Please stop. You're hurting our eyes. The music and movement don't tally.
The press up challenge and the rest are still on going.
As they say, Devil finds work for ideal hands.
Efia Odo and Kwesi Arthur have been the talk of social media because of a doctored sex video. So if you're wondering the hashtag Fix something something, we'll now you know.
It has been a long day but this day too has ended.
Oh and it rained in my area today. I pray it brings good news .
On the update of confirmed cases, Ghana's number is currently at 195, 5 deaths and the recovery stories are encouraging.
See you tomorrow.
Stay home. Stay safe. Take precautionary measures seriously.